Important
Dragonfly is currently out of the water and is receiving maintenance to make her ready for another ten years giving pleasure.
For this reason, and because of the Covid-19 precautions, we cannot currently take bookings for any trips until further notice
Please follow us on our Facebook page and on Instagram where we will announce when trips start again.
If you would like to help us with Dragonfly you can make a donation here.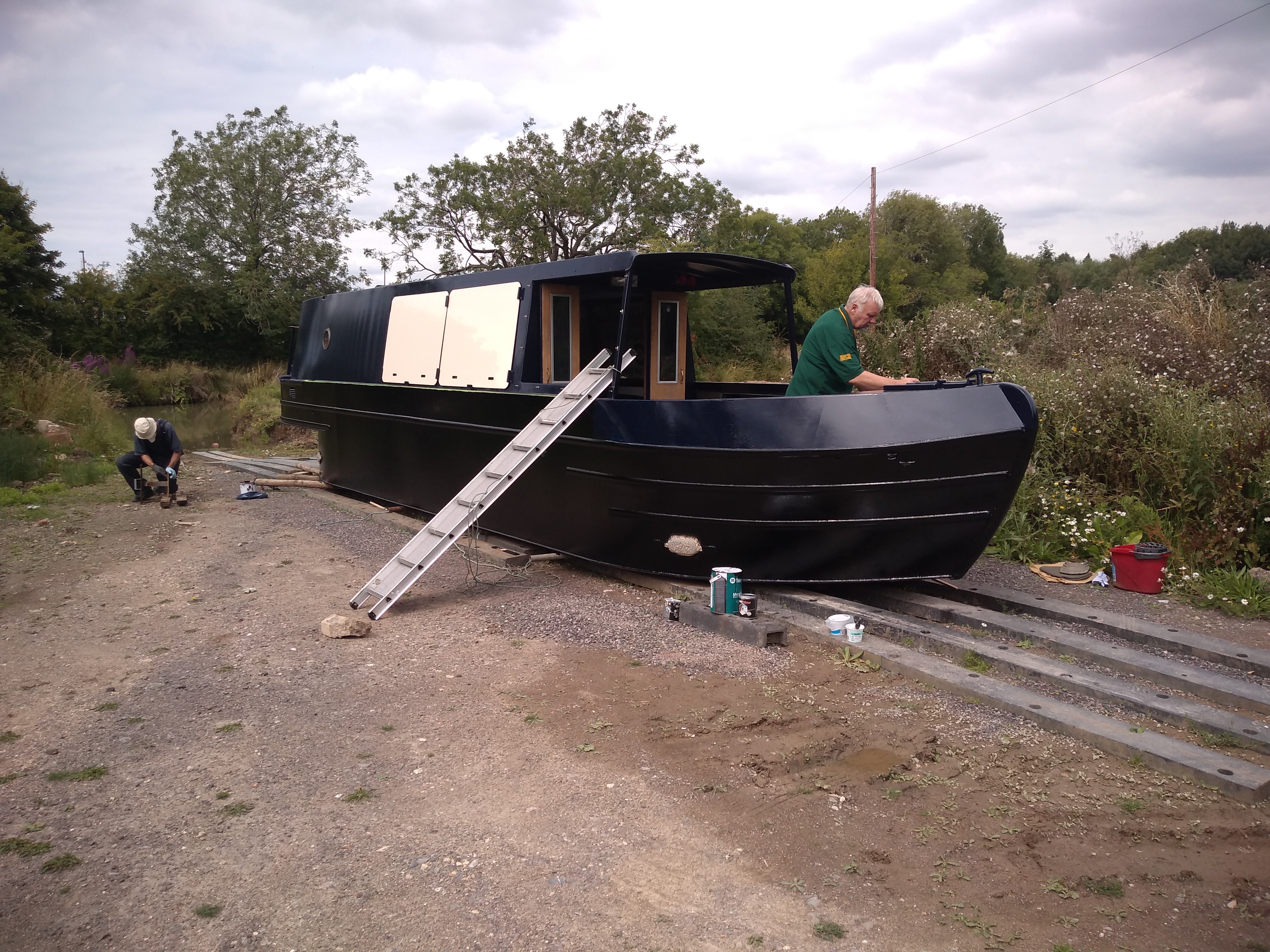 Dragonfly with maintenance currently underway - Grateful thanks to Rob H & Bob for getting the painting almost complete, & to Paul for cleaning & replacing the rear bilge pump, reviving & replacing the batteries & installing solar panels to keep them topped up. Thanks to George Eycott & Colin Hatch for tack welding the new anodes & re-installing the prop!
Boat trips latest
Dragonfly is a great way to see the restored section of the canal in Swindon.
Dragonfly is of traditional construction, having a steel hull and superstructure. She can carry up to 12 passengers and 2 crew, has plenty of room inside and with heating and a table, is ideal for parties or meetings, even if the weather is poor. When the weather is good, there is also plenty of room for passengers outside the cabin. She has a galley with hob, fridge and sinks. The engine has a sound reducer for a smooth, quiet experience.
There is a wheelchair lift to allow people who use a wheelchair or have a mobility problem to access the boat from the landing stage. Please note that there is only space for one wheelchair, and it is not possible to get larger powered wheelchairs on the lift.
Trips normally run from the landing stage at Waitrose, Wichelstowe, Swindon to Kingshill and return to Waitrose, lasting approximately 50 minutes. Use the postcode SN1 7BX to find the landing stage.
Public trips now run, weather permitting, every weekend & Bank Holiday through the year, plus Wednesdays during the school holidays. Fares remain at £6 for adults, £3 for children; children under 2yrs go free. Trips run at 10.30, 11.45, 13.00, 14.15 & 15.30.
Please remember we require a minimum ratio of 1 adult to 3 children You can just turn up on the day, but if you want to be certain, please book via the contacts at the bottom of the page. Bookings close at 7 pm the day before - and you are only booked once you've received a confirmation!
The boat can be chartered, subject to crew availability, during the week or at weekends. It is popular for birthday and anniversary parties, including pirate parties, club meetings and get-togethers, in the day or summer evenings. Plenty of notice is good to make it easier to find crew. Charter fees are £60 for one hour, £90 for two hours.
If you would like to purchase a trip voucher as a present for a friend, we offer them at £18 for a family of 2 adults & 2 children. You may wish to purchase a Charter voucher for groups of up to 12, at the rates above. To obtain one, please email cheryll.yeowell@wbct.org.uk
For information, call the boat team on 07401 220076 or preferably email boat.bookings@wbct.org.uk

.