On The Button - June 2018
If this email does not display properly, please view online
(tested on various email clients; known not to display properly on older versions of Outlook)
Wilts & Berks
Canal Trust
Welcome to "On The Button"
The dream has come true: new canal section opened to the public
A great day for the Wilts & Berks Canal Trust: supporters, funders, landowners and the public gathered by the Wilts & Berks canal at Studley Grange between Royal Wootton Bassett and Swindon for the formal opening of a new section some 1.2 km in length.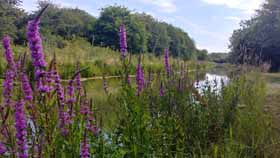 Chair of Wilts & Berks Canal Trust, Roderick Bluh, Chair of Viridor Credits Board Peter Renshaw and fellow Trustee David Robertson, together with Biffa representatives' Nick Emery National Estates Manager and Dean Willett formally opened this newly restored section of the Wilts & Berks canal.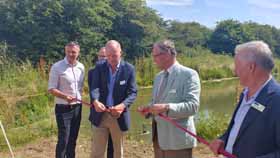 Also joining in the celebrations were Mayor of Royal Wootton Bassett Mike Farrow, Chair of Wiltshire Council Cllr Alison Bucknall, Deputy Leader Vale of White Horse District Council Cllr Ben Mabbet and Chair of The Wiltshire, Swindon & Oxfordshire Canal Partnership Fleur de rhe Philipe.
Also present were contractors, project managers, members of the public who had contributed to the project, WBCT members and volunteers and many local people who have all helped to bring this dream to reality.
The entrance to the Studley Grange can be found off Bincknoll Lane at Chaddington Lane Bridge, Royal Wootton Bassett, SN4 8QR. The towpath is subject to closure at short notice to allow the adjacent landfill site to undertake maintenance operations as needed.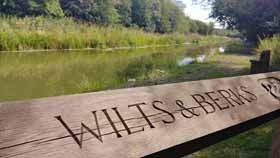 The pub with no beer...
Dave's team are getting ever closer to the winning post... the day the 'pub with no beer' becomes the 'pub with beer'. Recently supporter and Transitions Project partner Marilyn Trew created some friezes for over the small bar showing scenes from the canal from West to East. You may remember Marilyn from last year when she painted the Boat Trip sign for the Dragonfly boat team. Another lovely piece of work Marilyn... thank you!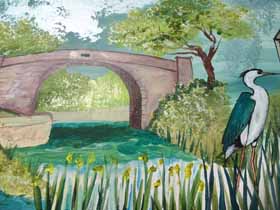 Mary Archard helps out in Swindon
WBCT Wheelyboat was seen in June on Coate Water in Swindon taking part in the Dragonboat Festival on 25th June... not in fact racing, but instead acting as a water taxi. She and her crew joined Swindon Branch members who were based on land with the Trust gazebo helping to promote the Trust. Coate Water, a reservoir, was once an integral part of the Wilts & Berks canal. The reservoir formed a 70-acre lake, built in 1822 by diverting the River Cole. Its primary purpose was to provide water for the canal and it remained outside the borough of Swindon until the borough's expansion in 1928.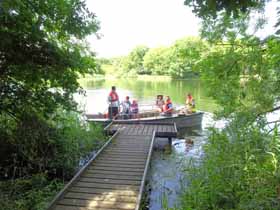 @wiltsberkscanal
Our facebook page is a real winner for us in giving us a quick and effective way of communicating with all those interested in the happenings at the WBCT and along the canal... and receiving messages back from our supporters. We are up to 2201 likes and have a monthly reach of well over 10k. Why not join in and like our page to make sure you get the latest news as it happens.

@wbctcanal
WBCT has a small twitter presence. We are looking for a committed volunteer to help us connect with a twitter audience by working with the facebook team and the website team to increase the range and diversity of our contacts with all those people out there who we know want to support our project.
If you are interested in getting involved please get in touch with: patricia.clements@wbct.org.uk
Please support all our social media efforts by liking sharing following and retweeting.
Work goes on behind the scenes
WBCT work is not all about work parties and the canal. As a responsible charity, WBCT officers and staff have been working hard to ensure the Trust and it's record management systems are compliant with the new GDPR regulations from 25th May. We are confident that we are compliant with the introduction of a new centralised data management system which covers both the membership records and the accounting records. All this goes on behind the scenes of course: our supporters and members will only be aware of the effects of being GDPR compliant if they no longer receive information from us: they haven't pressed the opt in button on our website… go to: www.wbct.org.uk/gdpr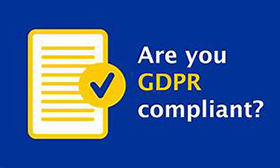 WBCT in Wantage
In late June and through to early July WBCT Vice Chair Brian Stovold led his now traditional evening walks around the canal and the lost pubs of Wantage, all part of WBCT East Vale Branch efforts to support the Wantage Summer Festival. He's been leading these walks for a number of years now and reports that they are popular and very successful, giving a great deal of information out to many about the canal through history and our work today in restoring and improving habitats for everyone to enjoy.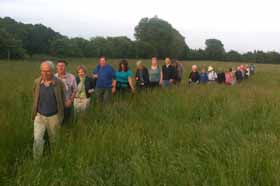 Still hasn't manged to find those lost pubs though....
He can try the Peterborough Arms soon!
Dave and June go to the Palace
WBCT were asked to nominate a volunteer to attend a tea party held at Buckingham Palace early in June as part of a national celebration of the role of volunteers in charities…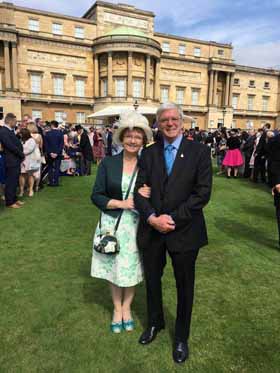 WBCT Chair said:
"The Trustees had no hesitation in recommending Dave Maloney, Chair of Melksham Chippenham and Calne Branch, Executive Manager and long- time volunteer leader of the Peterborough Arms refurbishment project team.
Dave personifies volunteering... hardworking, dedicated, a team player, careful and cautious when spending our hard raised public funds... and inspiring and leading from the front in times of need.
He attended the garden party representing all our volunteers: we thank him and we thank all our volunteers for all their efforts"
News of the WBCT magazine
Dragonfly will be back with us in August with a bumper summer edition full of in depth articles about all things canal: the new editorial team led by Patricia Clements, Head of PR, Communications, IT & Administration is working hard on copy, images and design for a new look Dragonfly... with the old favourites as well... watch this space for a preview in the next OTB.
July Open Forum
Tuesday 10th July at 6.30 pm
More information and book in with patricia.clements@wbct.org.uk as places are limited at the venue.
AGM
Saturday 13th October at Old Mill Hall, School Lane, Grove, OX12 7LB
More details in August Dragonfly
Wilts & Berks Canal Trust
Dauntsey Lock Canal Centre
Dauntsey Lock
Chippenham
SN15 4HD
---
Wilts & Berks Canal Trust: A Non-Profit-Distributing Company Limited by Guarantee
Registered in England and Wales No: 2267719
Registered Office: Dauntsey Lock Canal Centre, Dauntsey Lock, Dauntsey, Chippenham, SN15 4HD
Registered Charity No: 299595
Unsubscribe from general news from the Wilts & Berks Canal Trust