Please make a donation to support the Land Fund appeal
The activity in aquiring the track of the Wilts & Berks Canal is continuing to grow and so the need for funds is increasing.
It is vital that we secure the track, as we cannot make serious progress at any point until we have control of the land.
The Land Fund is open for donations.
Please help us by making a single or recurring donation to support the Land Fund appeal. You can do so by PayPal here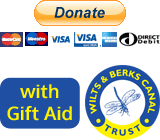 ... or by sending a cheque to the Trust Office at
Dauntsey Lock Canal Centre
Dauntsey Lock
Chippenham SN15 4HD
(please write "Land Fund Appeal" on the back of the cheque)
... or by making a transfer to our bank account at Lloyds Bank
Sort code: 30-98-41
Account number: 76719560
(please include your name, your post code and the words "Land Fund Appeal" in the transfer details)