Take a trip to find Santa on the Trust's narrow boat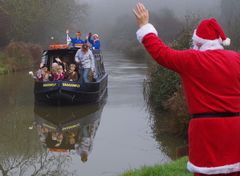 We will be "Finding Santa" every weekend from the 2nd and 3rd December to the 16th and 17th December, and then daily up to and including Saturday 23rd December. Booking opens on 7th October 2017.
Work at the new Swindon Borough Council "Canalside" development near Waitrose has meant that Santa will have a new base this year.
"Santa Trips", on our narrow boat "Dragonfly", will be operating from a landing stage behind the Esso garage at the bottom of Kingshill Road, SN1 4NG. Car parking is available at The Runner public house Wootton Bassett Road, SN1 4NQ. From the very back of the pub car park, just a short walk will take you to the Kingshill mooring. Just follow the signs.
You can start booking the trips from the 7 th October 2017 by emailing
This email address is being protected from spambots. You need JavaScript enabled to view it.
or by phoning 07401 220076
Trip Departure Times: 10:00 11:15 12:45 14:00
Please arrive at least 10 minutes before departure time to so that the crew can get everyone settled – Santa gets very impatient!
The cost this year will be £10 for children and £6 for adults. The present will be selected to match the children's age and gender, and if they have been before, Santa will call them by name, so please provide all of these details when you are booking.
NOTE:
The change of boarding point is because the canal at Waitrose is drained, to enable work in relation to development on the opposite side of the canal, including a public house.
Thanks to everyone who has helped us plan the Santa Trips this year: Roger Waite on behalf of the Runner Public House for the car parking, a WBCT member for allowing us to use the landing stage at Kingshill, Swindon Borough Council for keeping us informed about the progress of the construction work near Waitrose
Cyan Ellis, WBCT boat team secretary said "this is a really busy time for us, we have to order the presents (from Lapland of course) organise Santa's helpers to wrap them and ensure we have sufficient skippers and crew to run all the trips. It is a real team effort so, a big "thank you" to all who help and support us".