AGM walks for 16th October 2021
For the 2021 AGM at the Memorial Hall in Royal Wootton Bassett, why not bring a packed lunch and enjoy the 2.5 miles of canal-side walks before the formal meeting starts at 2pm? There will be a minibus shuttle service from the Memorial Hall to the site of Chaddington Lane Bridge on Bincknoll Lane, then to the slipway at Templar's Firs and then to the Memorial Hall (SN4 8EN).
There will be car parking as usual at Templar's Firs (SN4 7EP), and in addition the car park at Bincknoll Lane (SN4 8QR) will be open to AGM visitors, closing at 1:30pm.
What can you see?
If you start at Chaddington Lane Bridge, you can see the whole of the Studley Grange section and then walk all the way to the Templar's Firs slipway, taking 1½ hours (waterproof walking shoes needed for the public footpath through Harris Croft Farm), returning to the Memorial Hall by minibus.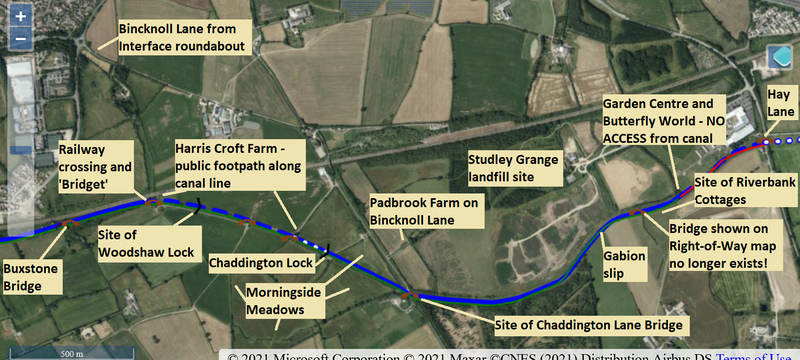 [Map derived from the WBCT Interactive map, showing locks, bridges, culverts, etc.]

If you base your walk at Chaddington Lane Bridge, you can explore the Studley Grange section followed by Wiltshire Wildlife Trust's Morningside Meadows, returning to your start point along the canal via Chaddington Lock, taking 1¼ hours (four benches at Studley Grange).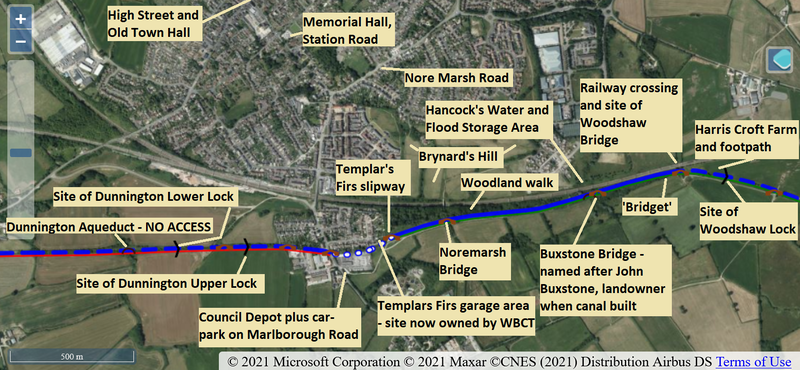 [Map and key derived from the WBCT Interactive map, showing locks, bridges, culverts, etc.]
If you base your walk at Templar's Firs, you can walk the towpath to the eastern end of the restored section, cross to the northern side at 'Bridget' (our little bridge crossing a drainage ditch) and walk back on a wide country path (four benches along the towpath and one by the slipway). The adventurous can explore the unofficial woodland walk between the wide footpath and the railway (stout walking shoes needed). The towpath takes 20 minutes while the northern footpath and woodland walk may take a little longer.
West of Templar's Firs slipway is the garage area for the former MoD houses; WBCT now owns the site, plus some of the garages. It is intended to locate the 'Vic Miller Wharf' on the north side of the canal when extended westwards.
NOTE: You cannot visit Dunnington Aqueduct on AGM Day because it is not open to the public. However, WBCT does have a licence to organise working parties along this stretch in the winter months – we can let you know when we plan to work there so that you can join us if you tell us you're interested.