Please make a donation to support the Destination Lacock appeal
When the expected Planning Permission for the Melksham Link is agreed, our canal will connect to the national waterway network. We are now looking at how we can follow on with the restoration of 3.8km between Melksham and the Bell Inn at Lacock which, with the Melksham Link and Avon river link, will push us nearly 10km from Semington.
An opportunity has arisen to purchase an 850m section of this critical stretch at Queenfield Farm and we need to secure it quickly. We have set ourselves a fund raising target of £60,000 for this, which should cover a fair market price including our legal fees. Any surplus,after a deduction to cover the cost of the appeal and related overheads, will be put towards the purchase of other canal track in this sector.
South of Queenfield the canal up from the river is owned by our partner Wiltshire Council and so with this purchase and the Melksham and Avon Links, it would total 80% of the route from the Kennet & Avon Canal to Lacock.
The current footpath between Melksham and the Bell Inn at Lacock (a canal side pub) runs across fields, stiles and sometimes walkers encounter electric fences or barbed wire. At the moment cyclists between the two centres have to use the twisty and rather dangerous Forest Lane. We intend to put in a multi-user path alongside the canal with good surface for walkers, cyclists, pushchairs and disabled tricycles. It will link from the riverside walk in Melksham to the towpath along the new Wilts & Berks Canal section to Semington. We will turn the towpath into a wildlife trail as an amenity for the local community, to encourage endangered species like water voles to return and will plant a good mix of wild flowers to help our bee population. Our project at Studley Grange is a pilot for this and the local students and school children have really enjoyed being involved.
Can you help and make a contribution to this vital fund raising appeal? Or can you think of any friends or local companies that may be able to help us?
Please help us by making a single or recurring donation to support the Destination Lacock appeal. You can do so by PayPal here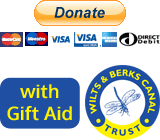 ... or by sending a cheque to the Trust Office at
Dauntsey Lock Canal Centre
Dauntsey Lock
Chippenham SN15 4HD
(please write "Destination Lacock Appeal" on the back of the cheque)
... or by making a transfer to our bank account at Lloyds Bank
Sort code: 30-98-41
Account number: 76719560
(please include your name, your post code and the words "Destination Lacock Appeal" in the transfer details)