West Vale Branch - Onwards and Upwards
West Vale Branch held an Extraordinary General Meeting recently at which two of the very long-standing members of the branch, Graham Banks and Alan Norris, stood down from their roles of Chairman/Treasurer and Work Party Organiser respectively, (but they are not hanging up their muddy boots).
I was elected Chairman and Kenn Tagg as the Work Party Organiser. We have big shoes to step into. Graham and Alan have been working with the branch for 25+ years and have encyclopaedic knowledge of the canal and the history of its restoration in the Vale. They have created a facility in the Shrivenham Canal Side Park that is enjoyed by the local community and will be a lasting legacy.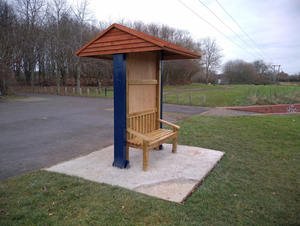 In recent months the team has been working on making improvements to the canal park with funds kindly donated by the IWA. This has included installing benches, making bug hotels, completely revamping the "bus Stop" information board, (which now has its own very posh bench), replacing the old compound fence and refurbishing our storage containers to make them look more presentable and in keeping with their surroundings.
There are still a few things to finish in the Canal Park, like commissioning our new eco composting toilet and erecting interpretation signs around the site. The next big element of the IWA project is to install a solar pump that will re-water the section of canal in the Canal Park. This is an exciting project that will be a first for the trust and may be a solution that can be used to rewater other isolated sections of canal.
I hope that myself and other members of the branch team (new and old), will make Graham and Alan proud as we move Onwards and Upwards.
Ian Mitchell (Chair - West Vale Branch)