Public consultation - RWB Neighbourhood Plan Review
Royal Wootton Bassett Town Council is reviewing the Royal Wootton Bassett Neighbourhood Plan.
A neighbourhood plan sets out the vision and policies to guide future development at the local level.
Full details are set out on the Town Council's web site here - royalwoottonbassett.gov.uk/neighbourhood-planning/
This is a chance for residents in and around Royal Wootton Bassett to give their views on the development of the Wilts & Berks Canal in particular.
The survey can either be filled in online, or a paper form obtained in the town, or will be included in the November edition of the RWB & Lyneham Advertiser. And you can download it to plan your answers here.
There is a list of which facilities people would like developed, for example housing, tourism and leisure uses and public open space. There is a box to tick for 'improvements to the canal'.
The main opportunity is
'If you think the Neighbourhood Plan should allocate land for particular uses, which areas or sites do you think should be allocated? Please identify land use type and specific site or area. '
This map shows three main stretches of canal that we can suggest it would be good to restore.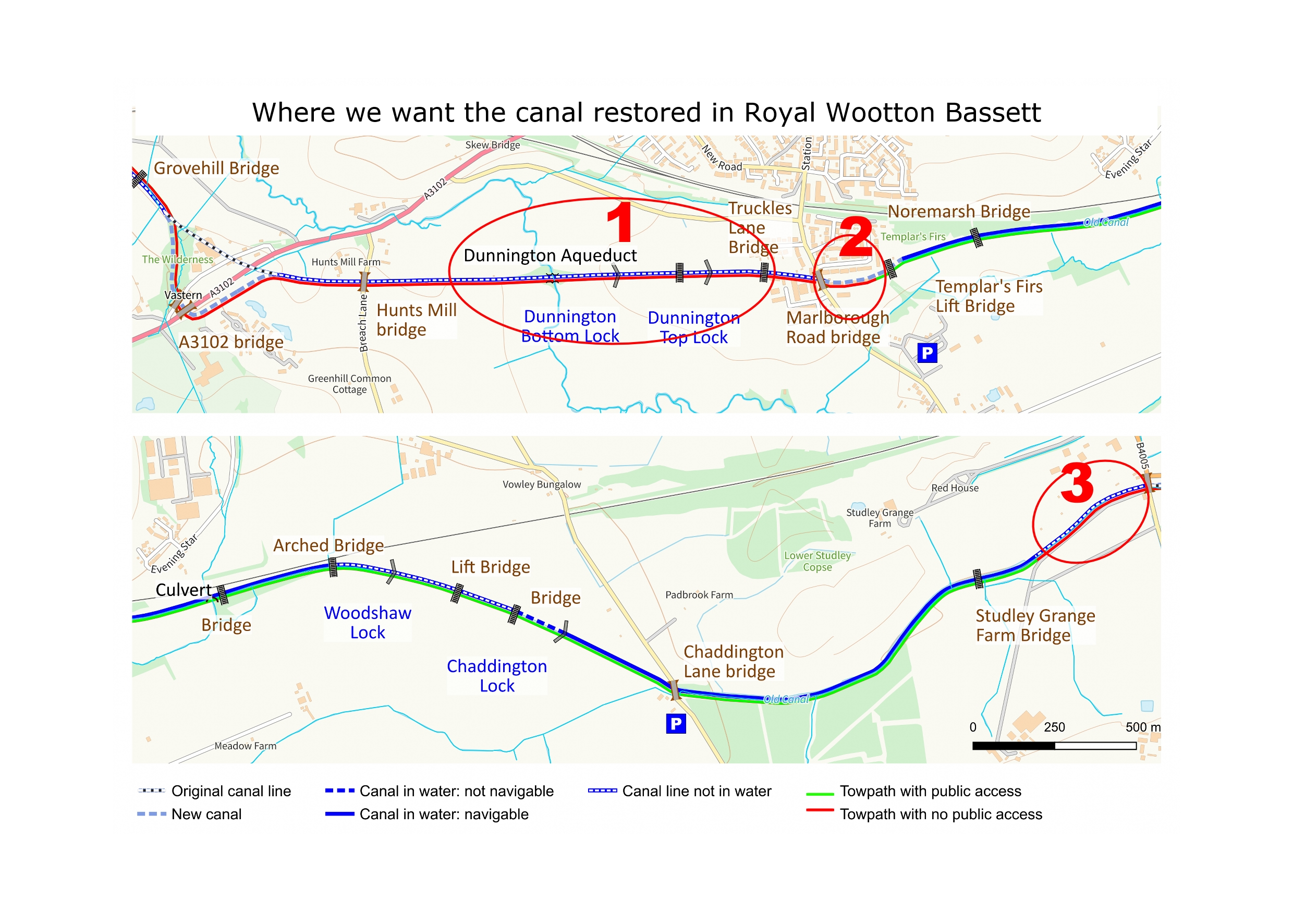 1. West of Dunnington Road, the route of the canal goes through Dunnington Farm, land owned by Oxford University. The canal crosses the Brinkworth Brook via an aqueduct, a structure still functional. This area has been proposed for housing development in previous local plans, in the latest it was put aside because the St Ivel factory closed and that site was developed.
A proposal has been put forward on behalf of Oxford University, by their agent Savills, to Wiltshire Council in August 2019 as their Alternative Development Strategic Response to the Wiltshire Core Strategy for the period to 2026. This proposal is available as part of RWB's Neighbourhood Plan resources at https://www.royalwoottonbassett.gov.uk/?mdocs-file=3030 - scroll down to the bottom. This shows how a restored canal could be a key leisure facility in a waterside housing development that is offering a mix of housing types and community facilities.
2. The route of the canal goes through the old council depot on Marlborough Road. This site has been for sale by Wiltshire Council without success, most recently a planning application by the Salvation Army Housing Association was withdrawn. We in the Canal Trust believe that a better use of this land would be as a canal centre alongside a restored stretch of our canal. Elsewhere in Wiltshire, at Devizes, the Kennet & Avon Canal Centre has been a huge success in atracting tourists and visitors who spend in the town. Here, in Royal Wootton Bassett, this would be a key site for our canal to the west of Swindon. It would include showcases for local shops, an artisan food cafe, and tourist and local services information. For boaters, it would provide moorings, electricity, water and pump-out.
3. The reserved route of the canal runs along the southern edge of Studley Grange Garden Centre. Could we make a case to the owner that restoring the canal would be good for the canal and the garden centre?
Responses need to be returned by Monday 23rd November. Please contact Jenny Stratton if you have particular questions about this page.