Thank you
Since I became Chairman of the Trust I have been impressed by the enthusiasm, the dedication andthe sheer hard work of our members and supporters.
I would like to thank you on behalf of the Board and the Executive for all that you have done in the past and also at this very difficult time. I assure you that your work and your financial assistance is helping us make progress on achieving the aims of this great project that we are all involved with.

It's time to create an environment both we and our children can be proud of...
It's time to inspire and excite...
It's time to put our canal at the heart of everyday life...
Please make a single donation
Please help us further by making an additional single donation to support the Wilts & Berks Canal Trust. You can do so by PayPal here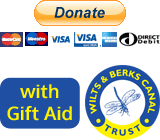 ... or by sending a cheque to the Trust Office at
Dauntsey Lock Canal Centre
Dauntsey Lock
Chippenham SN15 4HD
(please write "Members Appeal" on the back of the cheque)
... or by making a transfer to our bank account at Lloyds Bank
Sort code: 30-98-41
Account number: 76719560
(please include your name, your post code and the words "Members Appeal" in the transfer details)