Luke Walker, BEng ACGI MBA MIET
Work Party Organiser for Foxham and Lyneham Branch until March 2011
Nominated by Gordon Williams and Chris Coyle, text by Gordon Williams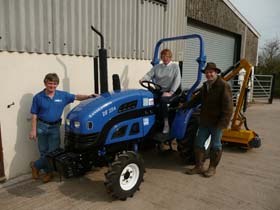 Whilst working at BAe Dynamics John Henn interested me in the canal trust, it must have been in the 1980's. Shortly after this I decided to donate a caravan that I had no further use for to the trust and Luke came to my home in Chipping Sodbury to pick it up. I remember that day as meeting a very enthusiastic and dedicated man in Luke.
Upon my retirement in 2006 I contacted Luke again and joined the Foxham and Lyneham Branch with Luke as the Work Party Organiser. Most Fridays he would leave his home in Warwick and come to Dauntsey Lock where in the summer long evenings he would start work and by the time we turned up to the Sunday work party he would have already cut the grass on half our patch. The other half he would cut on the alternate weekend. He seemed a tireless worker and would lead by example. You will all know he achieved more than one award for the number of hours worked. On the Sunday he would be the last to leave the site sometimes taking scrap metal and other rubbish to the council tip on his way back to Warwick.
You will all have come to know him as a fellow director and will be aware of the character of the man. You may not have agreed with him all the time, but you would not have been able to miss how dedicated he was to the canal.
When he left the branch as an active member he did it very responsibly, but it was difficult to find anyone to take his place as WPO, such was the impact he made and no-one could see themselves matching up to the amount of work and endeavour that he put in.
The branch have made me their WPO and it was with great intrepidation that I took it on. Luke is a mine of information, and in this difficult time for the branch of finding its new feet, he has not abandoned us as he has come to meetings and offered words of wisdom where sought.