Wild flower planting for the Studley Grange Towpath Trail
Funded by the Underwood Trust and other generous funders. Wiltshire Wildlife Trust's water team and WBCT volunteers plus a team from Network Rail worked in teams of three, stayed safe and planted 20,000 wildflower plugs over 4 days in April. The towpath is still closed for public access and we will give the opening date as soon as we can.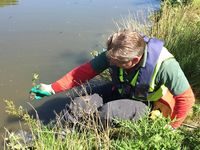 Read more about how we are improving the environment along the canal here.