Funding sucess for a Volunteers Project officer
The Trust was delighted to receive a grant from The Wiltshire Community Foundation.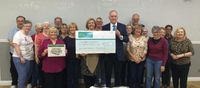 A grant of £5000 has been awarded to fund a new Volunteers Project Officer for the Trust's Transitions Project.
Chairman Rod Bluh received the grant from Fiona Oliver of the Wiltshire Community Foundation, with Ruth Wintle and the Stratton Art Group who created the art work for our 2018 calendar. The calendar is available via our web shop.