Trip boat Dragonfly back at Waitrose landing stage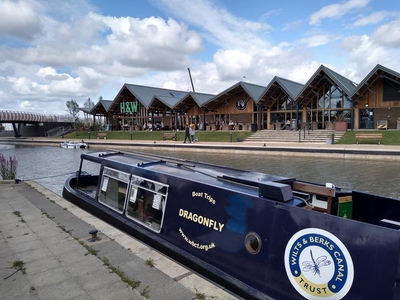 After the canal at Waitrose re-opened and water levels have recovered trips on our narrow boat Dragonfly are once again running from the landing stage at Waitrose.
The works to build the H&W pub and the school across from Waitrose meant that the canal had to be closed off with bunds and drained in early 2018. So boat trips had to be run from the landing stage near Kingshill. With completion of the construction of the H&W pub and the new bridge the bund was recently removed. Some work remained to seal some final leaks but the level is finally back to normal and public trips are once more running from the Waitrose landing stage.