Take a Boat Trip at Wichelstowe
Unfortunately a key part of Dragonfly's trip route is currently blocked off - see elsewhere on this site. But we have found that we can offer shorter trips - Dragonfly Experiences. Fares are £3 per person, irrespective of age. With Covid in mind, we ask passengers to remain outside the cabin at the front of the boat. Group size is up to 12, preferably from no more than two households or Covid bubbles.
SANTA 2021
We are planning to run Santa trips this year, even if the canal remains blockaded further along. We have established that we can still do a shorter version, based on the 'Dragonfly Experiences' we have been doing so far.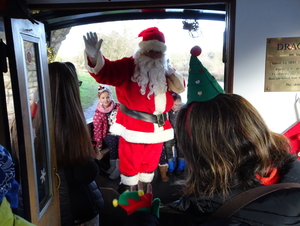 Trips will run every weekend from Saturday Nov 27th until Sunday Dec 19th and Dec 20th, 22nd & 23rd.
Trip times are 10.15, 11.00, 11.45, 1.15, 2.00 and 2.45.
Fares will be £12 for children, £6 for adults. For those not familiar with what we do, Dragonfly goes to find Santa; he gets on the boat and gives each child their own personal present; Santa knows who's been before, too!
PLEASE BOOK USING EITHER OF THESE, NOT VIA THE WEBSITE OR FACEBOOK PAGE.
Meanwhile, trips will run at weekends, & Wednesdays during school holidays, from 10.30 am - 4pm at half-hourly intervals. To book, call (but do not text) the boat team on 07401 220076 or preferably email boat.bookings@wbct.org.uk For details of where to come etc, see our usual information below.
We very much hope we shall be able to resume our usual trips once the blockade has been lifted.
Information on our usual trips at Wichelstowe
Dragonfly is a great way to see the restored section of the canal in Swindon.
Dragonfly is of traditional construction, having a steel hull and superstructure. She can carry up to 12 passengers and 2 crew, has plenty of room inside and with heating and a table, is ideal for parties or meetings, even if the weather is poor. When the weather is good, there is also plenty of room for passengers outside the cabin. She has a galley with hob, fridge and sinks. The engine has a sound reducer for a smooth, quiet experience.
There is a wheelchair lift to allow people who use a wheelchair or have a mobility problem to access the boat from the landing stage. Please note that there is only space for one wheelchair, and it is not possible to get larger powered wheelchairs on the lift.
Trips normally run from the landing stage at Waitrose, Wichelstowe, Swindon to Kingshill and return to Waitrose, lasting approximately 50 minutes. Use the postcode SN1 7BX to find the landing stage.
Public trips now run, weather permitting, every weekend & Bank Holiday through the year, plus Wednesdays during the school holidays. Fares remain at £6 for adults, £3 for children; children under 2yrs go free. Trips run at 10.30, 11.45, 13.00, 14.15 & 15.30.
Please remember we require a minimum ratio of 1 adult to 3 children You can just turn up on the day, but if you want to be certain, please book via the contacts at the bottom of the page. Bookings close at 7 pm the day before - and you are only booked once you've received a confirmation!
The boat can be chartered, subject to crew availability, during the week or at weekends. It is popular for birthday and anniversary parties, including pirate parties, club meetings and get-togethers, in the day or summer evenings. Plenty of notice is good to make it easier to find crew. Charter fees are £60 for one hour, £90 for two hours.
If you would like to purchase a trip voucher as a present for a friend, we offer them at £18 for a family of 2 adults & 2 children. You may wish to purchase a Charter voucher for groups of up to 12, at the rates above. To obtain one, please email cheryll.yeowell@wbct.org.uk
For information, call the boat team on 07401 220076 or preferably email boat.bookings@wbct.org.uk