Santa 2023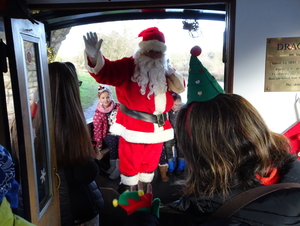 We are planning to run Santa trips again this year, based on the 'Dragonfly Experiences' we have been doing so far.
ALL TRIPS MUST BE PRE-BOOKED
Trips will run every weekend from Saturday December 2nd until Sunday Dec 17th and then every day from Wednesday Dec 20th, up to & including Saturday Dec 23rd

Trip times will be 10.30, 11.15, 12:00, 1.30, 2.15 and 3pm.

Fares will be unchanged at £12 for children, £6 for adults. Children aged 1 & under go free. For those not familiar with what we do, Dragonfly goes to find Santa; he gets on the boat and gives each child their own personal present; Santa knows who's been before, too!
Bookings open on Monday October 2nd - to book, please email 2santa@wbct.org.uk or ring 07401 220076. Payment must be made at least two weeks before your trip to confirm the booking. ALL TRIPS MUST BE PRE-BOOKED

PLEASE BOOK USING EITHER OF THE ABOVE, NOT VIA THE WEBSITE OR FACEBOOK PAGE.
---

Dragonfly trips at Wichelstowe

Dragonfly is a great way to see the restored section of the canal in Swindon. She is of traditional narrowboat design, with a steel hull and superstructure. She can carry up to 12 passengers and 2 crew, has plenty of room inside with heating so is comfortable even if the weather is poor. In good weather there is plenty of room for passengers outside the cabin. The engine has a sound reducer for a smooth, quiet experience.

There is a hydraulic lift to allow wheelchair users or those who have a mobility problem to access the boat from the landing stage. Please note that there is only space for one wheelchair, and it is not possible to get larger powered wheelchairs on the lift.

Our Dragonfly Experience trips run from the landing stage at Waitrose, Wichelstowe, SN1 7BX. Please remember we require a minimum ratio of 1 adult to 3 children; you can just turn up on the day, but if you want to be certain, please book using the telephone number or email below.

Trips last approximately 20 mins. Fares are £4 for adults and £1 for children aged 3 to 14 (max 3 children per adult). Trips (depending on season) run at weekends & Bank Holidays, plus Wednesdays during the spring & summer school holidays, from 10.30 am - 3.30 pm and run approximately on the hour and half hour, weather permitting.
If you would like to purchase a trip voucher as a present for a friend, we offer them at £16 for a family of 2 adults & 2 children – those under three go free. To obtain one, please email cheryll.yeowell@wbct.org.uk

In December, Santa appears on the boat! See the separate section below, advertised from September each year.
---
Information on boat trips at Pewsham
At Pewsham ad hoc boat trips usually take place on the second Saturday of each month from April to September weather and water depth permitting. No need to book or buy tickets, just turn up and make a donation.
We use The Mary Archard which is our aluminium 'wheely' boat that is capable of taking a wheel chair for those who have mobility issues. The trip leaves from The Wharf at Pewsham and goes to Double Bridge and back. At the Wharf we run a 'Pop up' café that serves delicious cakes and refreshments whilst some of our local volunteers will be available to give details of the history of the canal and our current restoration work and hopes for the future.

Unfortunately there is no parking at the Wharf with the nearest public car park at Tesco Pewsham meaning a 2km flat walk along the footpath / cycle path that runs right past The Wharf and along the canal.