Getting Under the M4
Update - November 2022
Although National Highways (NH) granted us some £40,000 for preparatory work as Stage 1 of this project, they have notified us that they are unable to support our application for Stage 2 (detailed feasibility and planning permission), of around £870,000 within the current roads programme. However, it seems that the door is not totally closed. We have sought clarification from them about their decision and we are awaiting their response.
Meanwhile, we are looking at fundraising to complete the feasibility studies and obtain planning consent for the whole crossing. The overall scheme is already being funded by many benefactors in addition to NH and it is hoped that having these in place will strengthen our case for NH funding of the most costly construction phase. Further updates will be posted here as the project develops
The Project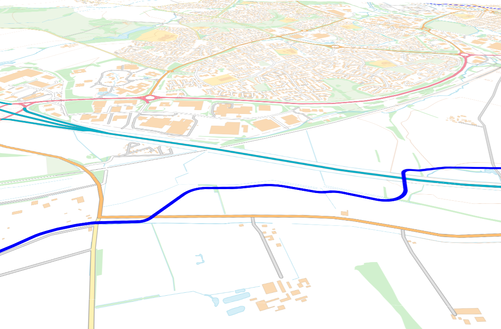 The Trust has set as one of its priorities as the completion of the canal from Swindon to Royal Wootton Bassett, where there are already significant lengths in water with more planned and consented. The big barrier, of course, has always been the M4 motorway, which cuts the original line of the canal between Junctions 15 and 16. A new route for the canal and crossing point has been identified, where the M4 is high enough to get the canal underneath.

The restoration of the canal in Wichelstowe will take it right up to the motorway fence on the north side. On the south side, a new route is required across farmland between the M4 and Hay Lane. As part of this route the diversion of Wharf Road included a new culvert for the canal which was built as part of the Southern Access Road scheme in 2021 providing a new route into Wichelstowe from Junction 16.
The Trust received a grant of up to £42,648 from National Highways enabling a project concept, initial feasibility & design studies to be created for the M4 crossing and 1.3km of canal towards Hay Lane as the first stage in the process. The Project Concept stage supported and included an application to National Highways for the funding of Stage 2, consisting of Environmental surveys, a preliminary design and obtaining planning permission.
The M4 crossing is central to delivering the Trusts strategic project between Royal Wootton Bassett and Swindon resulting in a single 10km of the W&B canal in water as shown on the map below.