West Vale Branch
The West Vale Branch section has the Wiltshire / Oxfordshire border as it's western limit (where the canal crossed the River Cole) and extends some 12 km to just east of the village of Uffington. The canal meanders through the Vale of the White Horse skirting the villages of Bourton, Shrivenham, Longcot and Uffington. Being rural, the line is quite apparent for much of this length; except where crossed by the railway (twice), by roads and access tracks and for a section around Uffington.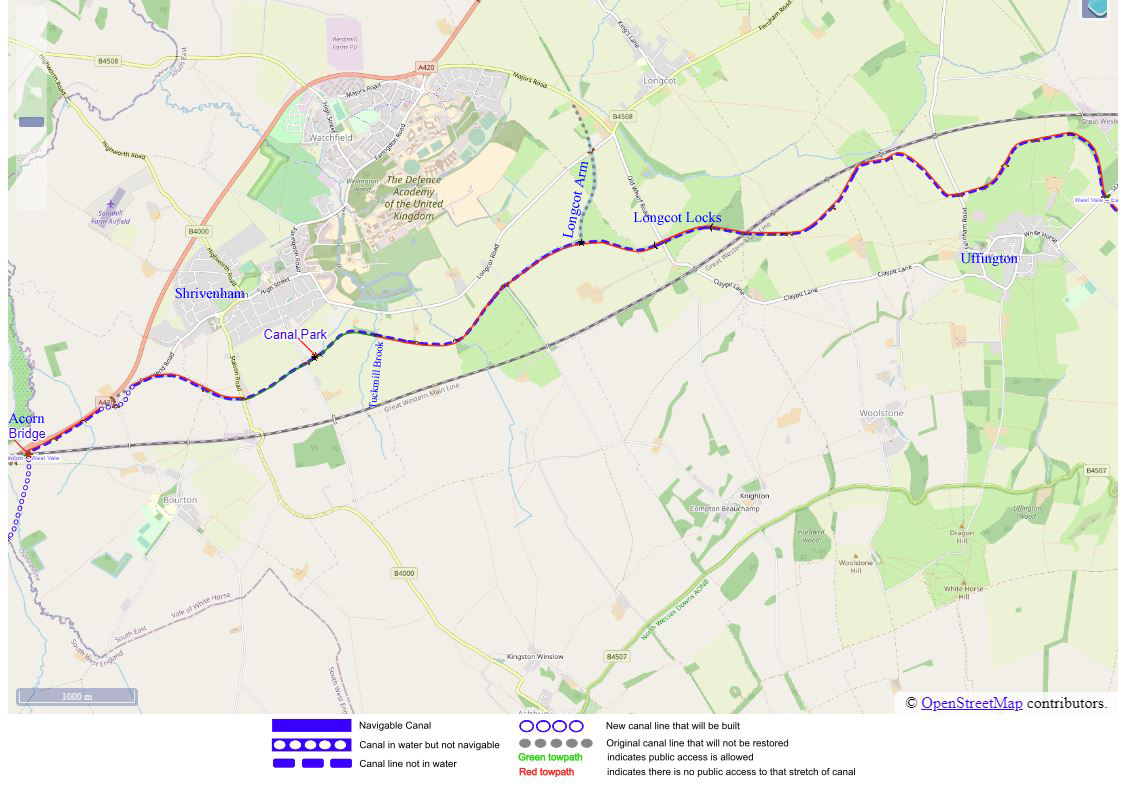 Extract from the Trust Interactive Map showing the area of the West Vale Branch.
The branch has monthly informal meetings, open to all, on the first Wednesday of each month, starting at 8 pm, at the Prince of Wales pub in Shrivenham High Street, with a work-party on the following Saturday for urgent tasks.

We hold regular weekly work-parties most Wednesday mornings, meeting at The Park in Stainswick Lane at 10 am.
As long as Covid-19 restrictions on indoor meetings continue, our monthly Branch Meetings at the Prince of Wales will be suspended.

Our Wednesday work-parties have restarted and follow the IWA & Trust rules on minimising the risk.
Issues that previously would have been discussed at Branch Meetings are now resolved prior to the work-party on Wednesdays at The Canal Park in the open air.
Latest Update: We plan to restart Saturday work-parties from 17th April.
To visit our lengths of canal & sites open to the public please see our Local Information Page.
We welcome "Corporate Volunteer Teams". Many local firms have visited us for a fun day away from the office/workplace volunteering on canal restoration. We have a variety of jobs always on offer depending upon the time of year and the physical abilities and numbers of visitors. Work can be arranged for small groups, two or three, up to about 50, for a couple of hours or for a full day.
(Click here for further information and previous groups).
Contact our work-party organiser - alan.norris@wbct.org.uk
For further details about the Branch contact our chairman, Graham Banks at graham.banks@wbct.org.uk