M4 Crossing Update
The Wilts & Berks Canal Trust's grand ambition, the restoration of the Wilts & Berks canal to link the English northern and southern waterway systems, has been clouded for many years by uncertainty about obtaining a crossing of the M4. This is about to change.
Highways England, the company responsible for England's motorways and major A roads, has awarded over £42,000 towards the Trust's feasibility studies via its Environment and Wellbeing fund. This fund is one of four standalone – or designated – funds which the organisation uses to support initiatives that deliver lasting benefits for road users, the environment and communities across England.
Gordon Olson, Chief Executive of the Wilts & Berks Canal Trust, said: "We are very grateful to Highways England for their generous award and look forward to working in partnership to deliver this important feasibility study.
"The M4 is the biggest barrier to fully restoring the canal and linking England's northern and southern waterways networks, so the results could be the key to unlocking the potential of the entire project.
"In the short term it would allow us to connect the existing stretch in the Wichelstowe housing development to the north of the motorway, currently under restoration as far as the M4, with the line towards Royal Wootton Bassett to the south, more than doubling the length of canal in water in Swindon and providing a valuable new amenity for the local community.
"In the longer term we hope it would also help to demonstrate the benefits of restoration to other towns along the historic route, including Melksham, Chippenham, Calne, Cricklade and Wantage, attracting new funding to finally start connecting all of the stretches together.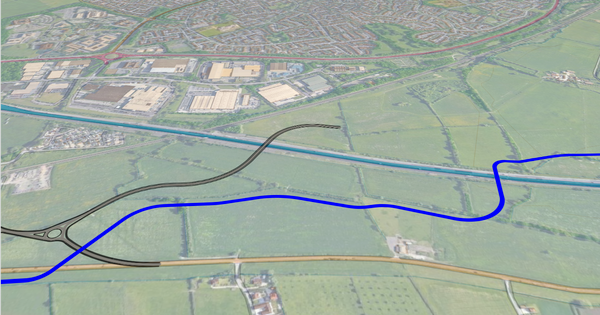 "The Wilts & Berks Canal, with its towpath and blue-green corridor, could eventually provide an important new source of local employment, tourism and recreation, as well as establishing vital new habitats for local wildlife."
Highways England Project Manager Ian Cole said: "We're delighted to support the Wilts & Berks Canal Trust with funding to scope out this exciting waterways project.
"The long-term initiative to restore the canal could also realise a great walking and cycling route and environmental improvements, all of which will attract more visitors to the area, and so help the local economy.
"We're investing in the environment and communities surrounding our road network, as well as the people travelling and working on it, to make a positive difference to people's lives. Our aim is to address social and environmental issues and add real value to society."