At last! A safe walking route between Swindon and Royal Wootton Bassett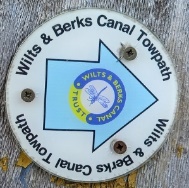 For many years, the only safe walking route between Swindon and Royal Wootton Bassett has been a very long and winding one, via Lydiard Millicent or Lydiard Park. Not only was the Wilts & Berks Canal severed by the building of the M4 motorway, so also was the old footpath network.
It's extremely unsafe to attempt to walk the footpaths that exist alongside the large roundabout that forms Junction 16 because they don't continue around the north side of the junction. Don't even attempt it!
As of Autumn 2022, there is now a safe walking route all the way. It starts or ends with the restored canal at the Templar's Firs slipway near Marlborough Road to the south of Royal Wootton Bassett as far as Studley Grange (with a public footpath where the canal is un-restored).
This map (derived from the WBCT Interactive Map) shows the first part of the route.
At the eastern end of Studley Grange, there is a set of steps and a permissive path provided by Biffa that link to the existing public footpath running between the landfill site and Hay Lane. If you want to take refreshment half-way between Royal Wootton Bassett and Swindon, there's a café in the Garden Centre.
With the completion of the Wichelstowe Southern Connector Road, the large construction compound blocking the footpath has now been restored to nature. You can walk from Hay Lane alongside the railway to Mannington and then by the 'Southern Flyer' foot/cycle way to Swindon, as seen on the second map: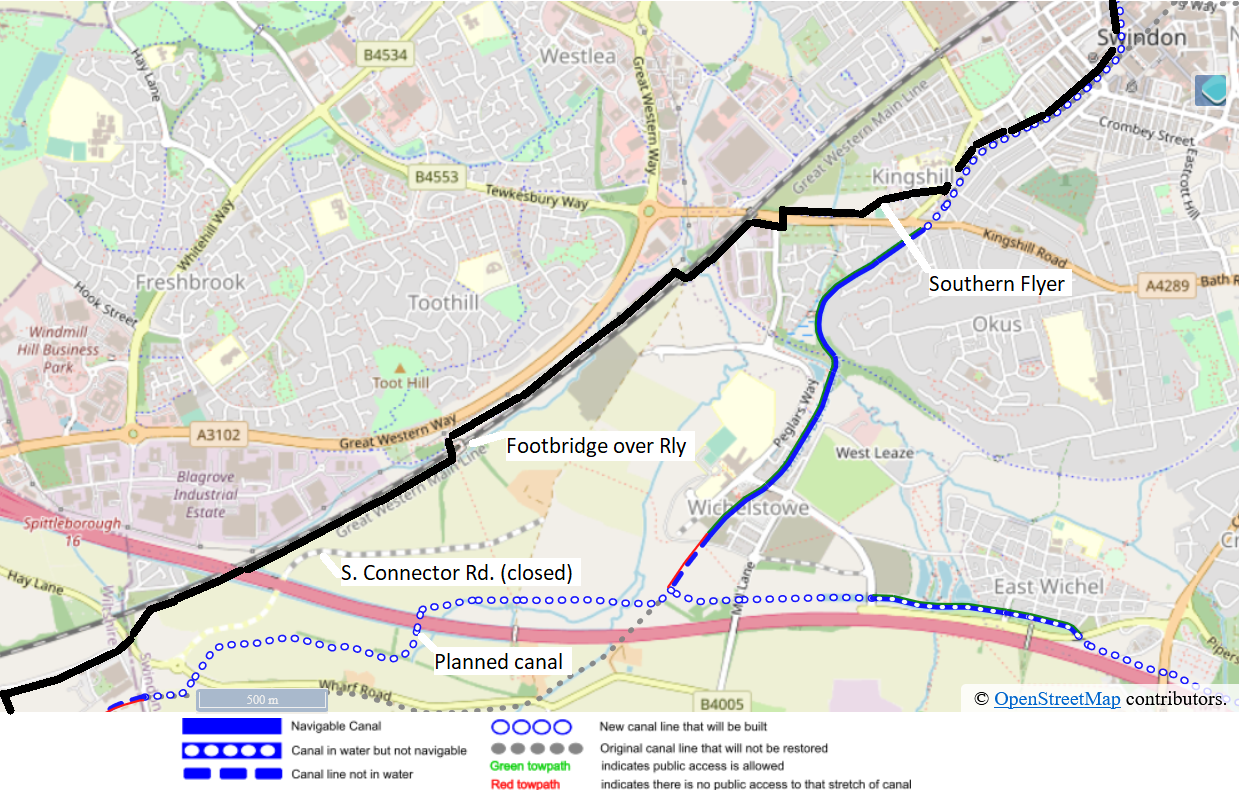 Allow about three hours end-to-end. About half of this safe walking route is on the Wilts & Berks Canal or its former line. Some time in 2023, the canal will cover three-quarters of the route, but unfortunately not now.

At Hay Lane, there's a tantalising glimpse of the 3-metre-wide foot and cycle way alongside the new Wichelstowe Southern Connector Road. It's blocked-off at the nearby roundabout while further construction work continues at West Leaze. When the road is finally open sometime in 2023, the foot/cycleway will take you towards the canal at Wichelstowe.

From there, you can already follow the restored canal to Kingshill and thence on the 'Southern Flyer' along the original canal line past the famous Cambria Bridge to Wharf Green and Canal Walk, bringing you to the Golden Lion statue in the shopping centre.

If you would like to download an illustrated 4-page guide giving full details of the route when travelling in either direction, click here .


To see the Interactive map covering the entire canal, click here

Steve Bacon, Chair, Royal Wootton Bassett Branch.