Swindon Planning Application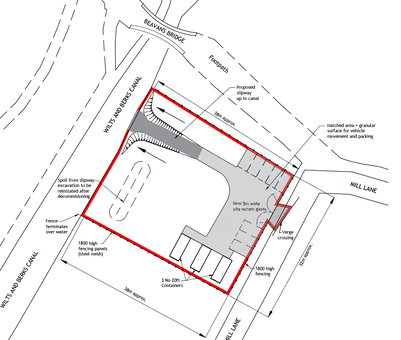 The Trust in Wichelstowe
The Wilts & Berks Canal Trust started the first restoration of the canal in Swindon over 25 years ago. You may be familiar with the sight of the trust's volunteers working on the maintenance of the canal at Wichelstowe and elsewhere. The trip boat Dragonfly moored by Waitrose is operated by the trust. A local operating base is needed to replace the one lost when a section of the canal was closed. Without this it is very difficult to operate effectively because most of the equipment and materials are scattered to temporary storage elsewhere. This problem will worsen as more of the canal is restored. It is also impossible to launch small work boats or visiting boats into the water. Eventually the trust will have a permanent base elsewhere on the canal.
The Proposal
The planning application is for a temporary base (up to 5 years) to be created on the north end of the field between Mill Lane and the canal next to the stone arch bridge. The site will be fenced securely and entered at a new access point off Mill Lane. Inside it will be partially surfaced with a compacted stone to provide manoeuvring space into the slipway and parking for 8 cars. Up to three refurbished, steel containers will be installed for storage. A small slipway will be cut into the canal bank to enable the trust to launch towable boats for maintenance and special events on the water. See the site plan.
The water voles will be protected and the habitat for them improved under the guidance of the ecological advisers to the Wichelstowe development. When the trust leaves the site it will be restored to its original condition. Normal operations at the new base will continue as now; a few hours a day on one or two days a week.
Further Information
The planning application is open for public inspection and can be viewed at the council's public access website http://pa1.swindon.gov.uk/publicaccess using the reference number S/22/1507 In the search box.
You can respond to the Swindon Borough Council Planning Dept by letter to Swindon Borough Council Planning Department, Wat Tyler House, Beckhampton Street, Swindon SN1 2JH or by email to sbcdc@swindon.gov.uk quoting the reference number of the application. The last date for a response is 14th December 2022. You may also contact the trust for more information or to express your views by email to Chloe Ford chloe.ford@wbct.org.uk . The trust hopes that our neighbours in the area will continue to support our efforts to improve the local environment for everyone."