New woodland alongside Wilts & Berks Canal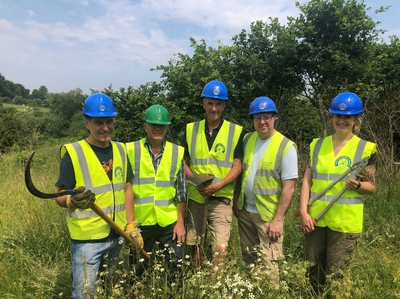 A new woodland is being created alongside a restored section of the Wilts & Berks Canal near Chippenham.
Double Bridge is a popular spot for walkers, with a bench overlooking the River Avon below.
Now volunteers with the Wilts & Berks Canal Trust have added to the appeal by planting 20 trees including beech, hornbeam, holly, rowan and cherry.
The mature trees - funded by a donation from the Heddington & Stockley Steam Rally - form part of a wider project to boost the biodiversity by creating a wildlife meadow and woodland.
The mix of planting will provide flowers, fruit and berries throughout the year.
The work was carried out by volunteers with the Melksham, Chippenham & Calne branch of the charity.
Wildlife officer Howard Yardy said: "Normally we plant saplings but they can be quite fragile, so we're delighted that the steam rally's generous support has enabled us to buy larger specimens instead. They make an immediate impact and give structure to the landscape.
"We also built a natural barrier around some of the sites to protect them from deer, using dead hedging to safeguard the trees while they continue to grow."
He added: "Our ultimate aim is to create a woodland pasture providing a wide range of habitats for all sorts of creatures, which will eventually form part of a thriving wildlife corridor alongside a fully restored canal.
"It's an exciting scheme and there are lots of opportunities for local residents and businesses to get involved, from volunteering with our workparties to sponsoring individual projects."
Email howard.yardy@wbct.org.uk