Aviva doubles donations for Wilts & Berks Canal – more than £5,300 raised for Naish Hill meadow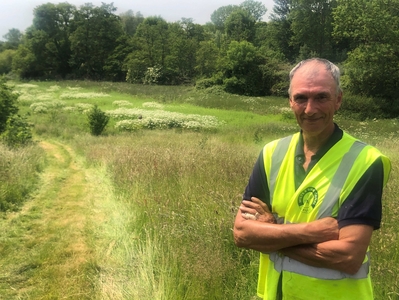 Delighted volunteers have received more than £5,300 to support the creation of a new wildlife habitat near Lacock.
The Wilts & Berks Canal Trust was featured by the Aviva Community Fund which promotes charity appeals and then matches their donations.
The Canal Trust asked for help with its new wildflower meadow and woodland at Naish Hill.
The seven-acre site near Lacock is leased from Wiltshire Council and sits between the towpath and the River Avon.
Supporters offered donations ranging from £5 to £250 to provide a total of £2,676, which was then matched by Aviva to provide a final figure of £5,352.
Canal Trust volunteers will use the funds to plant mature trees to push back some of the dense scrub and bramble, and neglected hedgerows will be restored.
The trees will include pollinator-friendly species such as cherry, rowan and crab apple.
The aim is to encourage a wider variety insects, birds and animals.
Howard Yardy is the wildlife officer for the Melksham, Chippenham & Calne branch of the Trust.
He said: "We received an amazing response to our appeal and would like to thank everyone who supported us, not only those who made the individual donations but also Aviva for their generous match-funding.
"This money will make a huge difference to our project, allowing us to move much faster and make a much bigger impact.
"We want to create a wildflower meadow and woodland which will boost local biodiversity and eventually sit alongside a fully restored waterway."
The Trust has already restored more than a mile of the canal between Pewsham and Lacock, with the popular stretch now attracting walkers, runners and cyclists, and hosting boatrides during the summer.
The longer-term aim is to continue the restoration south towards Melksham, where the charity has acquired land at Queenfield Farm, to eventually connect with the planned 'Melksham Link' taking boats along the River Avon to a new junction with the Kennet & Avon Canal near Semington.
The ultimate ambition to restore the entire waterway to the Thames & Severn Canal near Cricklade and the River Thames near Abingdon, connecting Chippenham, Calne, Royal Wootton Bassett and Swindon.
People can learn more about the charity's local work by visiting the information stand at the Melksham Food & River Festival this Saturday and Sunday, 2 and 3 September.
The charity is also offering boatrides throughout the event. Tickets are just £6 for adults, £3 for children aged up to 16, and £15 for a family of two adults and two children. Children up to two years old go free.
Visit www.melkshamfoodandriverfestival.co.uk for the boat trip schedule. Aviva