West Vale Branch
The West Vale Branch section has the Wiltshire / Oxfordshire border as it's western limit (where the canal crossed the river Cole) and extends some 12 km to just east of the village of Uffington.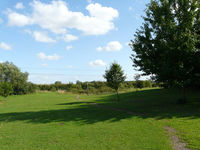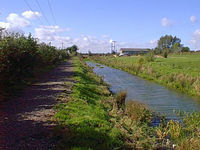 Some years ago, the branch cleared and dredged several lengths of the canal around Shrivenham, opening up 1500m of towpath. We also purchased 2 hectares of land to the south of Shrivenham that included 100m of in-filled canal. The canal was excavated and the area landscaped to create a small park that now includes a car park, slipway, paths, numerous trees and a wildlife area.
In order to join two of the dredged sections of canal, we then set about rebuilding the brick-arch bridge that carries Steppingstone Lane bridleway over the canal, it having been demolished in the 1950s. The new bridge is now in use, the final outstanding job here is to repair the wing walls.
The branch has monthly open meetings on the first Wednesday of each month, starting at 8 pm, at the Prince of Wales pub in Shrivenham High Street with, usually, a work-party on the following Saturday.
We also hold weekly work-parties most Wednesdays.
Contact our chairman Graham Banks for further details at This email address is being protected from spambots. You need JavaScript enabled to view it.
Lots more information on the Branch's area, these projects and all our other restoration activities can be found on the archive website.
As well as maintenance of the Canalside Park and towpaths, recent activities have been -
A branch work-party completed the surfacing of the towpath adjacent to Station Road Shrivenham. May 2018

London WRG cut and fixed the coping stones to the western parapet of Steppingstone Lane bridge, so completing the bridge rebuild. End June 2018

Two groups of energetic

volunteers from Arval, kept the towpath open from Stainswick Lane to Station Road, despite the heat. July 2018