Templar's Firs Extension 2014 on

In the dark years of the 1940s, the urgent need was to build houses for Air Force personnel working at the new Lyneham airfield; 50 houses were built on a cul-de-sac off Marlborough Road. Unfortunately, the back gardens of some of these former Air Ministry houses - the ones on the left in this photo - are on the line of the former canal. Those back gardens are not under threat; indeed, some of their owners are looking forward to re-designing them, to see a restored canal just beyond their boundary.
In January 2014, planning approval was given to extend the restored canal westwards from near the slipway to Marlborough Road. Our plans include a lifting bridge to provide access to the slipway, plus a boat basin. The map below was taken from the site plan drawn up by the Canal Trust for planning application no. 13/03892/FUL, which can be found on the Wiltshire Council Planning Portal.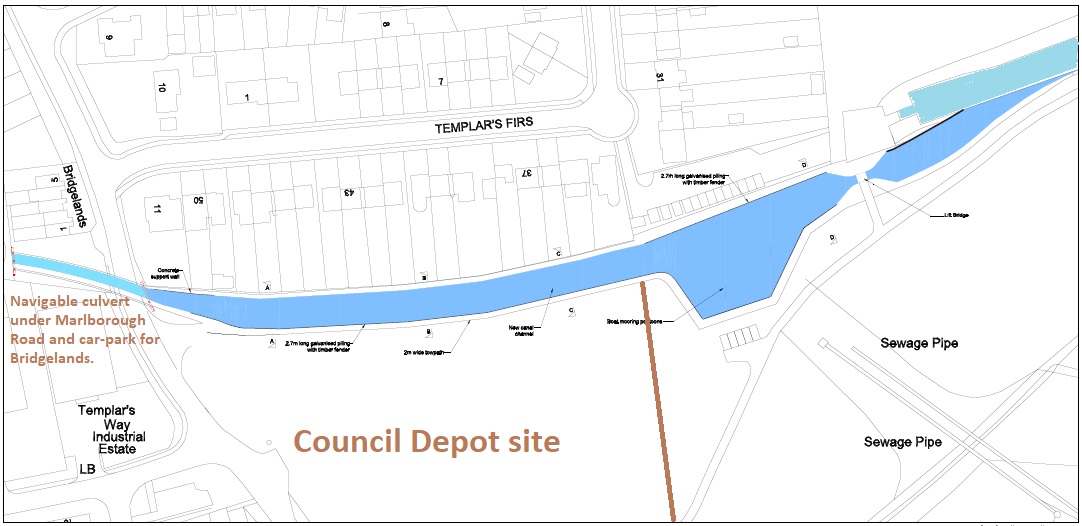 By January 2017, the all-weather access track had been diverted to pass south of the extended canal which will pass through the former Council Depot and then under Marlborough Road in a navigable culvert.
Nearly 200 tons of scalpings were delivered in 20-ton loads. Care had to be taken to avoid the overhead power line that supplies electricity to the houses in Templars Firs.

The canal will be higher than the meadow through which it will pass, and so it will be on a slight embankment. The material for building the embankment will be dug out from the north side of the Council Depot. Until then, further work on the canal extension has stopped.
The project is thus dependent on the re-development of the Council Depot site, so that the extended canal will pass south of the gardens of Templars Firs. A planning application for houses was withdrawn in 2019, and it is now unlikely that the whole Depot site will be used for housing, because parts of it will be too close to a sewage treatment works.
The Canal Trust hopes that any new development will make the most of the canal setting.