Royal Wootton Bassett Events
Christmas Lights and Shopping Events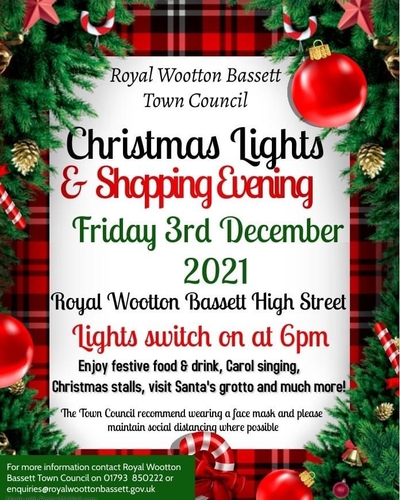 Please come and join us on this fantastic evening of family fun ! We have lots to tell you about our plans for the Canal and recent news for our towpath . There will be give aways and postcard maps and experts on hand to share the history and heritage of the Wilts and Berks Canal Trust !
We have a new Face Book page too…. Royal Wootton Bassett Canal ! Have a look , many wonderful shots from extra ordinary local creative photographers .
Plus we have some news about The Studley Grange section !
Other Events
In a normal year, the Branch would have a series of public talks in the winter months and Trip-boat weekends in the summer, plus socials for members and a stall at the Christmas Lights event. Unfortunately, because of the Covid-19 restrictions, we are restricted to video meetings on the first Monday of each month.
There are no planned events until this situation changes. Please check back again soon.
Past events
Bank Holiday Monday - August 31st
On 31st August, bank holiday Monday, our Royal Wootton Bassett branch ran a small pop up cafe beside the Studley Grange section of the canal beside the bridge in Bincknoll Lane. They had a wonderful time, and would like to extend a big thank you to everyone who donated for refreshments or stopped by for a chat - including the family of swans!