Chaddington Lock and Tail-bridge, 2000-2005
We're now used to having Lockdowns to protect against human infection, but who would have thought that an animal infection could hold up canal restoration for several months? It wasn't the only external reason that delayed the start and completion of Chaddington Lock's rebuild.
North Wiltshire District Council (NWDC) had purchased Morningside Farm in March 1999, and in anticipation the old towpath between the site of Summit Lock and Bincknoll Lane was cleared of trees. 'Summit Lock' was to be the first restoration project on the farm, and a planning application was submitted to NWDC in 1999. By the winter, a Waterway Recovery Group (WRG) weekend work-party had been arranged to dig out the remains of Summit Lock, but it had to be cancelled because planning permission had not yet been received, pushing back the possible start date to April 2000. It was further delayed until the autumn.
The old Lock Cottage had been demolished a few years before, because it had no running water or electricity; nor did it have road access. When lock-keepers lived there, everything had to be delivered by boat or towpath. The first job for the lock restoration was to create an all-weather access track from Bincknoll Lane for heavy vehicles to reach it without getting bogged down.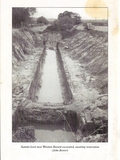 With John Bower as Project Manager, a WRG 'Dig Deep' team would undertake the lock reconstruction. Over a long weekend in October 2000, the old lock had been excavated and the lower 4ft 6in was found to be intact. The walls were found to be 3ft thick, with buttresses on the outer sides every few feet. The banks were profiled to prevent landslips. By winter, the rains came and filled the workings with water, so it was a good precaution. Thie photo was taken from 'Dragonfly' magazine, issue 79 from Winter 2000.
Materials were brought on-site for starting building, but the Foot-and-Mouth outbreak early in 2001 put a stop to any further work. Work re-started in the autumn when the WRG BITM ('Bit-in-the-Middle') group repaired the bottom cill.

A mild

dry winter allowed 3 WRG weekend work parties (NWPG, LWRG and KESCRG) to make progress with lock brickwork. Rather than use shuttering for concrete back-filling above a certain level, hollow concrete blocks were used instead, filled with concrete and creating a good result. The rains came in February 2002, preventing the building-up of the track to improve access for ready-mixed concrete lorries until summer-time. From then on, 'Summit Lock' was renamed 'Chaddington Lock'.
Another wet winter made it worthwhile paying for concrete-mixer lorries equipped with 11-metre conveyors.



The brick arch for a tail-bridge was completed in mid-2003, followed by the lower wing-walls and tail-bridge parapets. The tail-bridge's concrete deck was capable of carrying heavy vehicles. The temporary track below the lock could then be removed.
In 2004 the upper wing walls and by-wash were created, and lock-ladders were put in place. Finally, the lock scaffolding could be removed.


Ron 'The Brick' Robertson carried out the final topping-out at a ceremony on 13th April 2005 while Emily the Skiff, rowed by its owner, Project Officer Chaloner Chute, took the honour of being the first boat to enter the lock.
MORE INFORMATION: Ken Oliver of the Wiltshire, Swindon and Oxfordshire Canal Partnership has a series of photos on the Chaddington Lock and Tail-bridge project and other subjects. Click here to see many photos of Chaddington Lock.