Ron Churchill winning Local Authority Support
Right at the beginning of the Wilts & Berks Canal Amenity Group in 1977, Ron Churchill took on a leading role. Living in Wootton Bassett and working for the Met. Office at RAF Lyneham, Ron recognised that there was a lot of canal in his town that could be restored as an amenity - a linear park.
Although both Wootton Bassett Town Council and North Wilts District Council were very much in favour of bringing the canal back into life, Wiltshire County Council was initially very much against. Ron was instrumental in changing Local Authority attitudes to the restored canal, paving the way for what is now the Wiltshire, Swindon and Oxfordshire Canal Partnership.
Ron held two leading positions within the Amenity Group until a stroke caused him to retire from such activities, but he did live long enough tfor his dream to be realised. The then chairman of the Wootton Basset branch John Allen paid this warm tribute in Dragonfly magazine, issue 57, June 1995:
"It is with great sadness that the Wilts & Berks Canal Amenity Group, Wootton Bassett Branch, learnt of Ron Churchill's recent death after a long illness. Ron holds a crucial place in the history of the Wilts & Berks Canal Amenity Group. He attended the inaugural meeting in 1977, then took on the office of Group Membership Secretary and later Group Treasurer between 1978 and 1986. Then a debilitating stroke prevented him from continuing an active role.

"In addition Ron secured Wootton Bassett Town Council support for restoring the local stretch of Canal which was the precursor to the Wootton Bassett Canal Branch being formed in 1989. As a result of Ron 's determination to get the job done - and not take no for an answer - we now have a mile of local Canal in water and 9 other Branches along the 67 miles of Canal. At the 4th May local Branch meeting it was agreed that acknowledgement of Ron's contribution to what we are doing today should be recognised on the completion of the first Canal bridge currently being restored near Templars Firs.

"As a final anecdote, some years ago I was clearing some scrub at Brynards Bridge hole when he came along and chatted. I mentioned that a previous exploratory dig in the bridge hole had failed to find brickwork, so the assumption was there was nothing there. He intimated in a matter-of-fact way that the bridge was there if we persevered. We did, and the finished result will stand as a timeless testament of Ron's place in the history of the Wilts & Berks Canal.
"Ron lit the flame of Canal restoration in Wootton Bassett. I for one will ensure it is not extinguished."
Here follow some of the earliest articles from the magazine: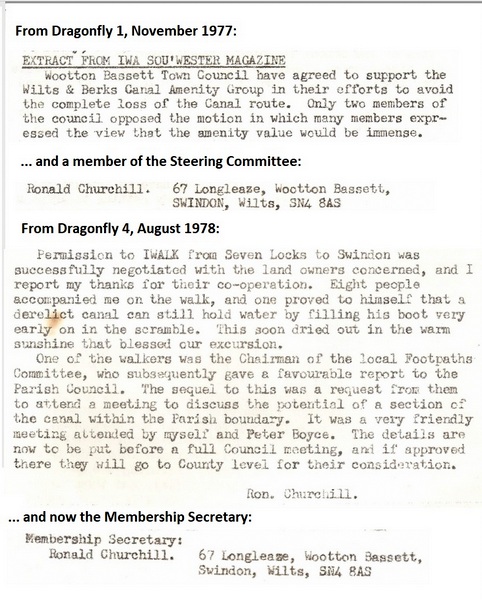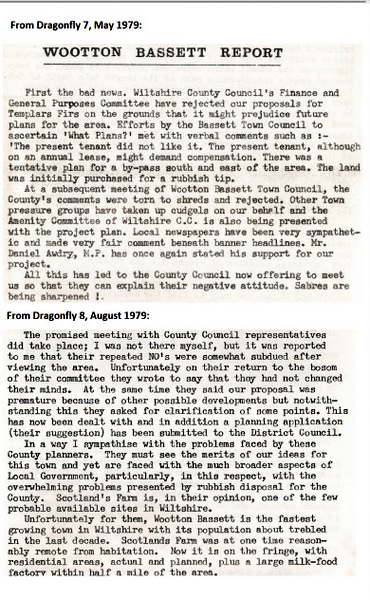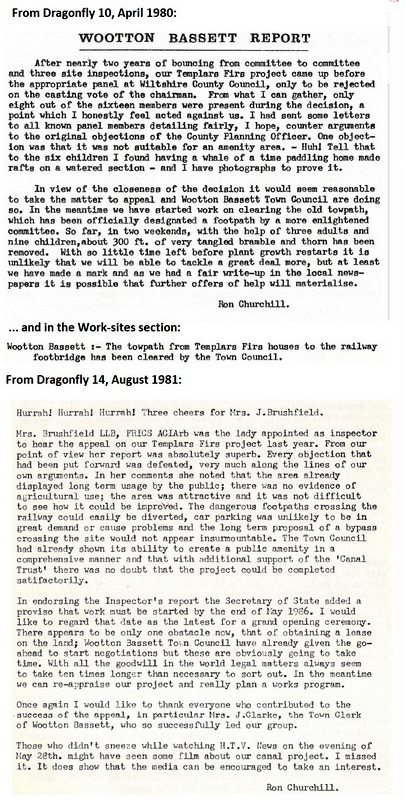 Issue 17 had two articles about the local councils and the canal. Here's Ron's very positive note about North Wilts District Council:

The other article, from the Group Secretary Neil Rumbol, is not for the squeamish. Here's a thumbnail of it:

Gradually, attitudes changed, resulting in the setting-up of a Wilts & Berks Canal Liaison Group of local authorities in 1987 - a precursor of the Canal Partnership.