Last Updated 25 Oct 2020
Latest Work Party News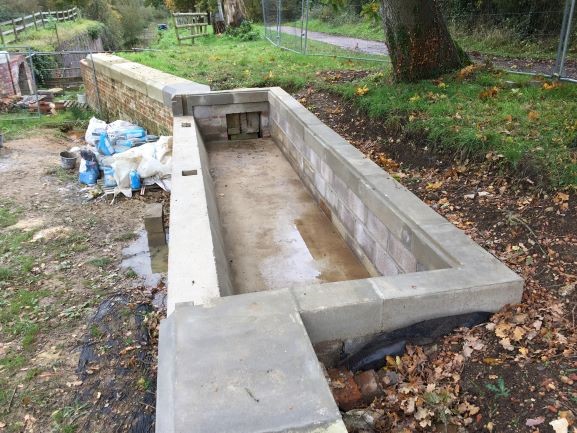 At Pewsham the basic structure of the Waiting Wall Spill weir is now complete with the last of the coping stones cast. Well done to all the volunteers concerned. There will be a metal grating that covers the spill weir and we still need to do some landscaping around it but otherwise we now move on to the next project.
We have just started laying the concrete blocks to extend the waiting wall to the, at present non-existent, wing wall of Middle Lock. This is only a small length so, weather permitting, it won't take too long to complete. At the other end of the waiting wall we are extending and building up the wing wall to Bottom Lock.This is now nearly ready to have the coping stones cast onto it.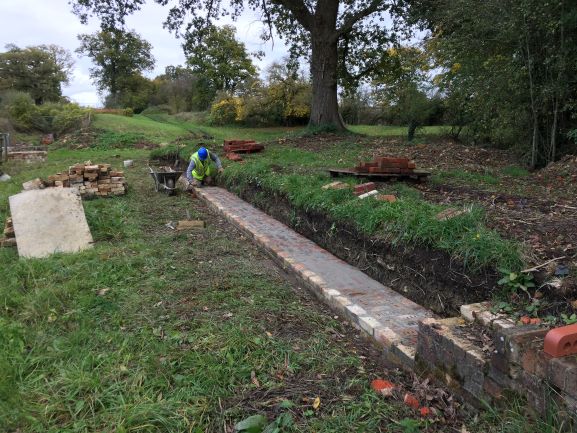 Elsewhere we have just started on the brickwork to the eastern wall of the Dry Dock. The base was laid last year and now the first course of bricks is nearing completion. See the Dry Dock Projects page for more details about the Dry Dock
Finally we are just waiting for the completed paper work (H&S etc) and then we can start on the building of the accommodation bridge over Top Lock. This will be a major project that will take several months to complete.
Branch Membership Secretary:
We are looking for a new Branch Membership Secretary who will be primarily responsible for first contact of new Branch members, letting them know about our meetings and ensuring their contact details are with John Goring, our secretary, so they get minutes and emails about Branch activities.
If you are interetsed please contact Dave Maloney initially for more details 07809 374754 dave.maloney@wbct.org.uk
Branch Fundraiser
We are looking for a local volunteer to lead/coordinate our fundraising activities outside of those funds raised by the Events team. Please contact Dave Maloney if you have any experience in fundraising or are happy to seek out funds and/or fill in relevant bid paperwork.