Last Updated 10 Jan 2022
MCC Projects

Below are some of the challenges and successes we have had in recent years.
Melksham Link: 2006 – Present

Much of the original line of the canal through Melksham has been built over. To enable the re-opening of the Wilts & Berks canal a new route, the Melksham Link, has been proposed.

For more detail click

here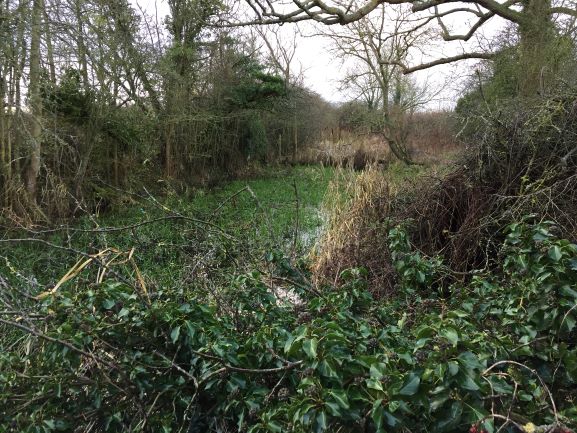 Queenfield Farm: 2019 – Present
For more detail click here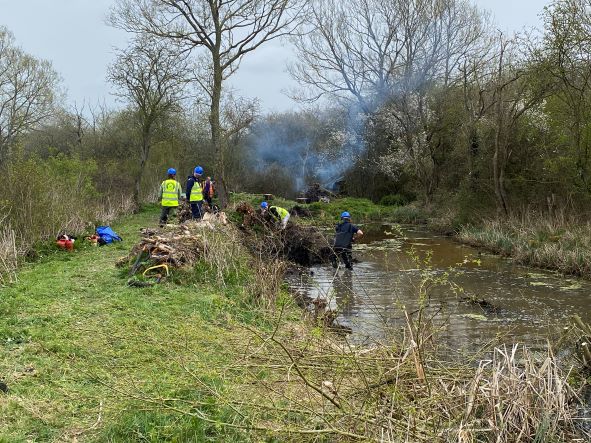 North of A4: 2010 – Present
Please note: There is now limited public access to this section of canal.
Although our branch focus is heading west to link up with the Kennett and Avon Canal at Semington we have been given the opportunity to work on land north of the A4 near Chippenham and we never say no :). A 3 year clearance plan following ecological and environmental guidelines was completed in March 2018. Having recently completed the removal of 55 tree stumps from along the towpath and caried out some general tidying up we have been able to open a limited section of the towpath to the general public.
For more details click here
Projects at Pewsham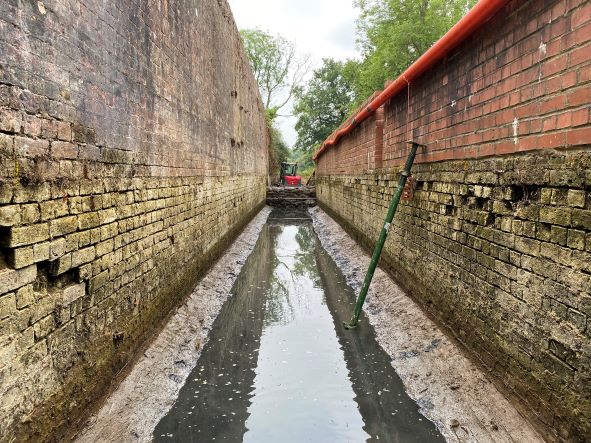 Pewsham Locks: 1980's - Present
There are 3 locks at Pewsham aptly named Top, Middle and Bottom. Initial work on clearing Top Lock started in the 1980's however it wasn't until the 2000's that more substantial work was carried out on all 3 locks. They are in varying states of disrepair as would be expected and all will require major work, at substantial cost, to bring them back to working use. The photo shows Bottom lock with the part completed western wall which was repaired in 2003.
For more details click here
Waiting Wall: 2019 – Present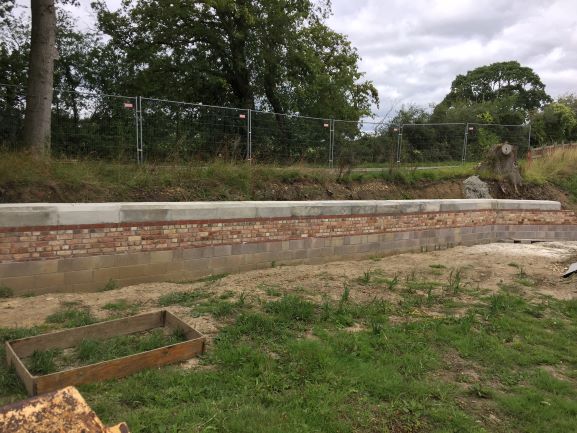 The Waiting Wall is between Middle and Bottom Locks on the towpath side of the large pound and, as the name suggests, would be used to moor boats waiting to go up or down between the two locks. Originally constructed of large, stones with a clay bank behind the new wall is of brick and block construction and joins the wing walls of the two locks.
For more details click here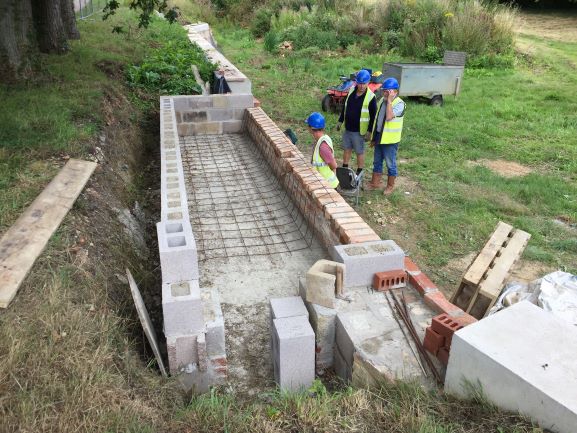 Waiting Wall By-wash: 2019 – Present
To allow for removal of any excess water and to stop the possibility of water overtopping the lock gates a by-wash is being constructed within the Waiting wall. This will allow excess water to flow around Bottom Lock and back into the canal below.
For more details click here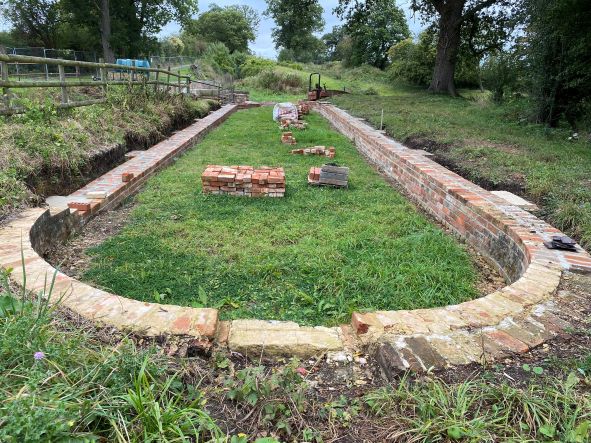 Dry Dock: 2018 – Present
Pewsham was something of an industrial hub on the canal with a lock keepers cottage, brick works, lime kiln, Carpenters Workshop, Saw Pit and Dry Dock. The Dry Dock is situated just above Bottom Lock and just like on canals today would have been used to raise boats out of the water for repair and the 'Blacking' and cleaning of their hulls. Not much remains of the Dock however in its day it would have had low walls to retain water to allow the boat to float in and a pitched slate roof supported on an open timber frame. We have now stabilised the wall foundations and have nearly completed rebuilding the walls with the hope to then start fitting the oak posts that will support the roof .
Form more detail click here
2017 - Help for Heroes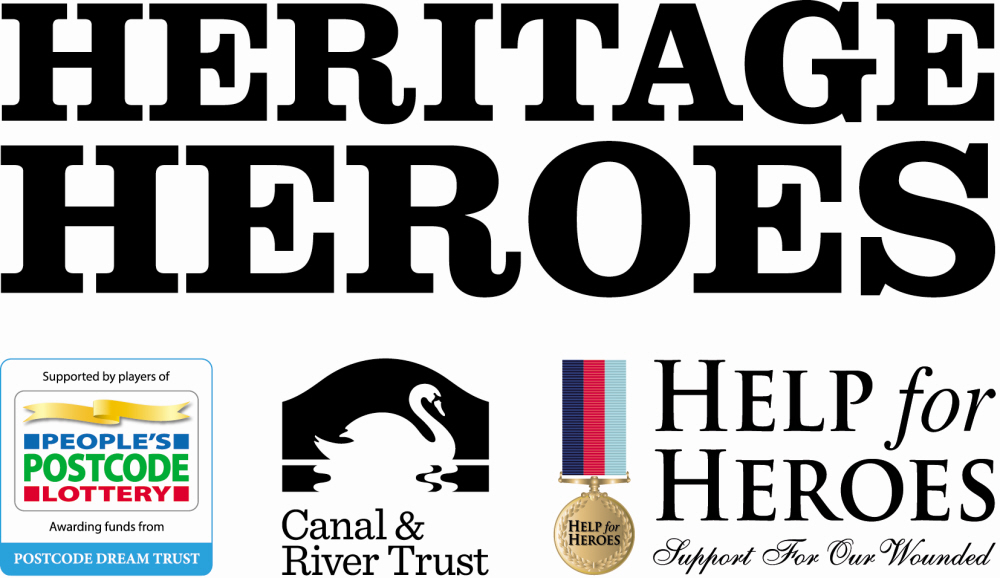 Working with ex-Military veterans at Pewsham The Pewsham Project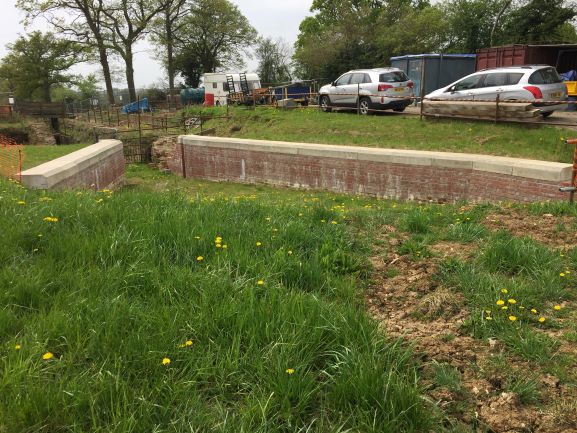 Wing Walls: 2003 – Present
With 3 locks at Pewsham there are 12 wing walls (2 at the top and 2 at the bottom of each lock) requiring extensive repair and rebuilding. Repairs by the volunteers started in 2015 and continue to this day. The photo shows the repaired wing walls at the top of Top Lock.
For more detail click here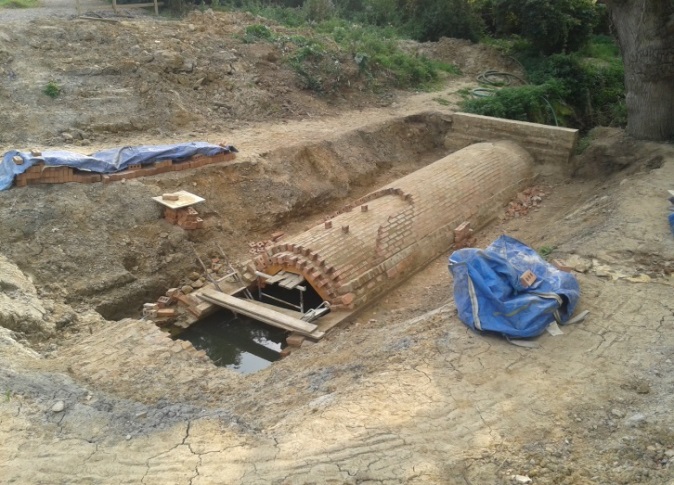 Cocklemore Brook Culvert: 2011 - 2015
A major collapse of Cocklemore Brook Culvert which ran under the canal occurred in 2014. Over the next year, and with thanks for a grant from the Yorkshire Building Society Living Legacy Awards, this section of the canal was isolated, the culvert dug out and completely repaired by our volunteers. The photo shows the repair work partially completed. The last brick was laid on 3rd May 2015 by Lee Hathway of the Yorkshire Building society.
For more details click here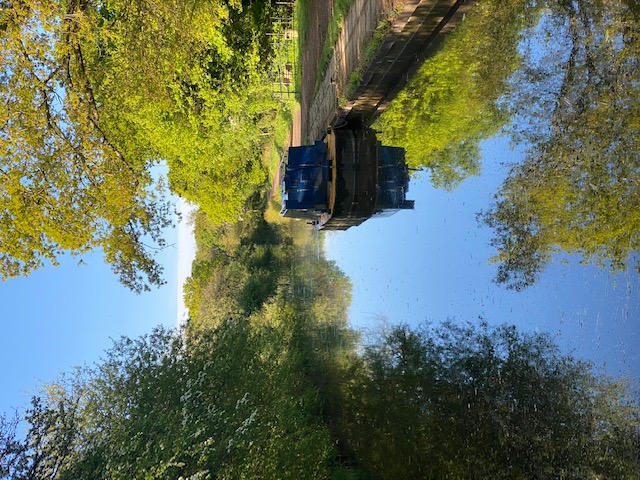 The Wharf: 2011 – 2013 (Photo credit Mike Bodman)
Having acquired and renovated a workboat (Boswell) and a Butty (non-powered work boat) a Wharf was required for mooring. This was completed in 2013 just below Bottom Lock and currently allows for mooring of Boswell and the Butty but in future will allow mooring for Narrow Boats as they wait to pass up through Bottom Lock.
For more details click here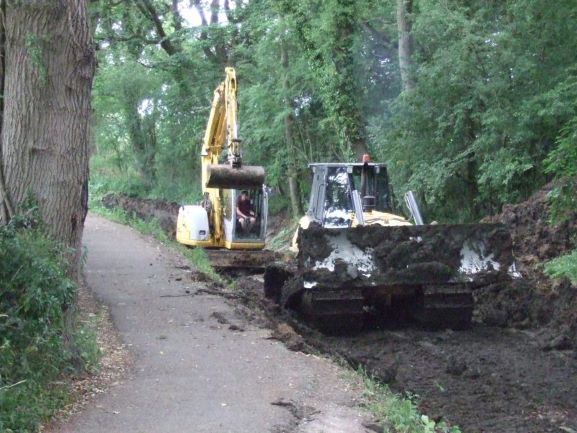 Dredging: 2008 – 2012
Dredging along the line at Pewsham was completed over a 3 year period with the final dredge in 2012 thus allowing boats on this section for the first time in almost 100 years. A major achievement and milestone!
For more details click here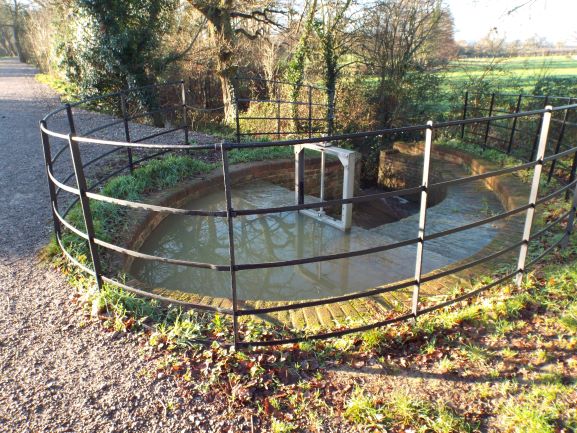 Spill Weirs: 2006 – 2016
Spill weirs act as 'safety valves' for canals, transferring excess water around locks, out of the canal itself and back into streams or rivers thus stopping the canal from breaching its banks or they can act as an exit point to a culverted stream that runs under the canal. On the Pewsham stretch there are examples of all three types. Two main spill weirs had to be restored before the canal could be re-watered: Circular spill weir and the larger Horse-shoe spill weir. Both were in a very poor state and the restoration work to bring them back to full working order is described here. The third waiting wall spill-weir is described in a seperate section.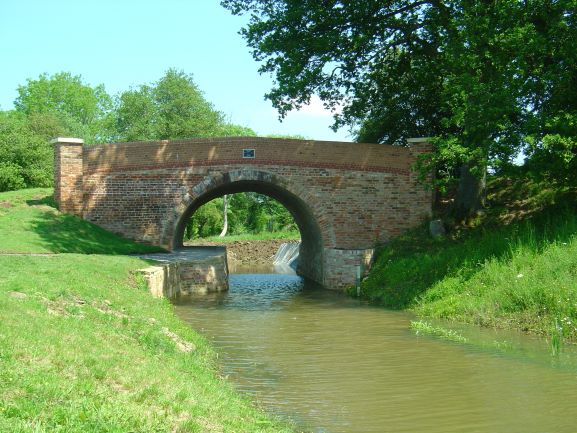 Double Bridge: 2005 – 2009
When restoration was first started at the turn of this century Double Bridge was in a very poor state of repair. After 3 – 4 years of restoration by Trust volunteers the Bridge was officially re-opened by our Patron HRH The Duchess of Cornwall on 26th May 2009
For more dteails click here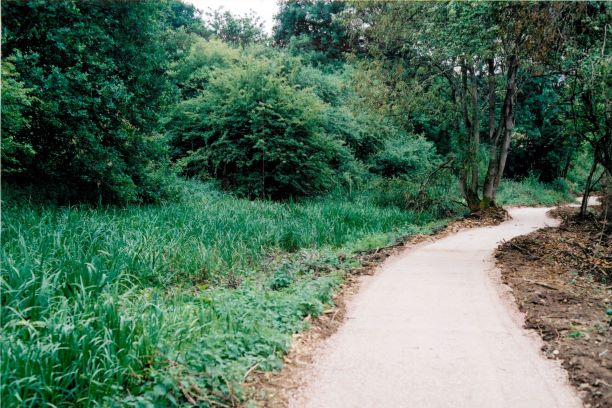 Creation of Foot / Cycle path: 2003
Much of the canal runs through open countryside and since it was abandoned in 1914 it has become overgrown, derelict and in many places inaccessible. We first have to gain access through land lease or purchase and then construct line access along the length of the section by rebuilding the towpath. This allows safe access for the General Public but also enables the volunteers to further develop the line e.g. dredging the canal itself and / or rebuilding structures locks, bridges etc.
For more details click here