Last updated 13 Sep 2020
Cocklemore Brook Culvert: 2011 - 2015
Along the line of the canal there are a number of culverts carrying streams under the canal. One such waterway is Cocklemore Brook and it flows under the canal through Cocklemore Culvert. The culvert was inspected in 2010 by a local caving group and visual inspection/photographs revealed nothing untoward. Unfortunately in Feb 2014 the volume and speed of the water flowing through this culvert caused part of the culvert to collapse. The water quickly eroded the clay and before much could be done a whole section of the canal collapsed and the water in it drained away. Immediate action took place to protect the public using the tow path and then the canal was dammed to prevent further water loss. Cocklemore Culvert became a major engineering job for us and we couldn't have imagined just what would be the consequences in time and money when we had that call to say a small hole had appeared in the tow path.
It was decided that the whole culvert would have to be rebuilt, concrete pipe was considered but the costs and logistics of installation were too great. A massive excavation job ensued.., dig the clay from the affected section of canal, dismantle the culvert, keep the water level low enough for volunteers to work safely (remember this was a stream that we could not divert). Tons of silt had to be removed from the culvert itself by volunteers in waders, using spades, shovels and sometimes gloved hands.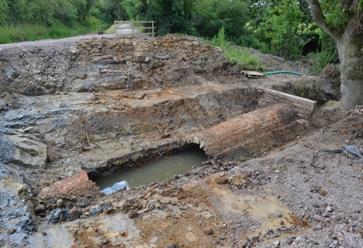 Starting to strip away old bricks, which we reused elsewhere
We completed half the culvert but were running out of money and decided work had to stop. Trust fundraising director and branch volunteer Kath Hatton discovered the Yorkshire Building Society Living Legacy Awards and Dave Maloney organised an effective campaign using Facebook to get the thousands who voted for us. We were granted £10,000 which enabled us to carry on with the work. In just over 12 months the culvert was completely rebuilt; using three layers of bricks in a pattern/method devised by trust engineers and branch volunteers, it was a beautiful job but hopefully it will never see the sight of day again!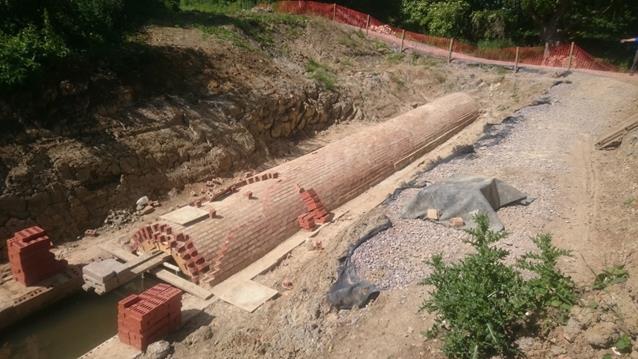 50% complete :)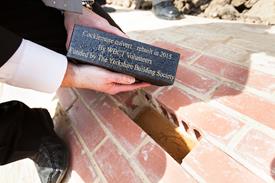 Last brick was laid on 3rd May 2015 by Lee Hathway of the Yorkshire Building society.
We plan an interpretation board to celebrate the work done by Ray, Basil and the team.
Back to MCC Projects Main Page
Back to MCC Home Page