Last updated 6 Nov 2020
Queenfield Farm: 2019 – Present (click on photographs to enlarge)
After a successful fund raising campaign involving Trust members and members of the public in 2018 sufficient money was raised to buy 6 acres of land just outside Melksham on the line of the Wilts & Berks Canal at Queenfield. This gives us just short of 650m of canal line.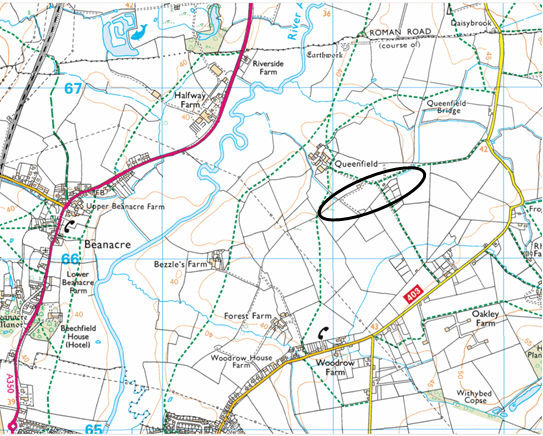 The oval on this map shows the area of canal line purchased
This section of the line forms a part of the Destination Lacock project which aims to create a safe route between Melksham to Lacock, for walkers, cyclists and horse riders.
The actual canal line at Queenfield was illegally infilled and as such the Trust has no plans to restore the original line as it would be responsible for disposing of whatever they find in this section. Clearly this could be a very costly exercise but at least a professional survey of the infill revealed that no toxic waste was present.
Until we are ready to start formal work on the towpath/canal line our land is leased to a local farmer but we retain access to carry out maintenance.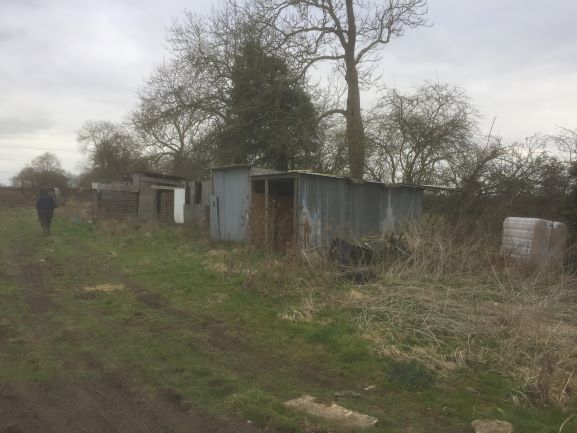 The site itself is flat and grassed and had an array of wooden structures that had been used for stabling/storage. After a brief survey we decided to keep the back of a horse box as a crew room and leave one small barn sized building standing for storage. Some of the other buildings were not structurally sound and would have to come down.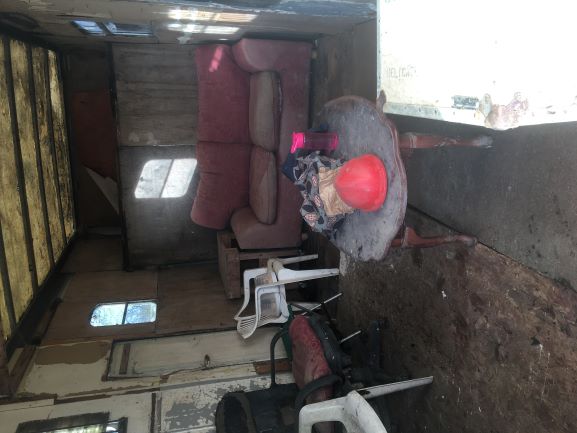 Emptying the sheds resulted in some furniture being available for the crew room which is basically water tight and wind proof!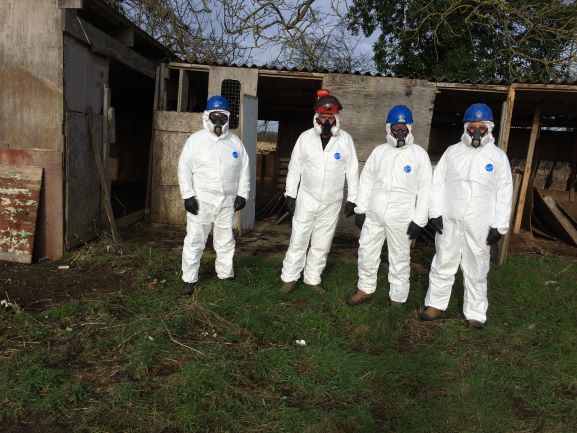 Further investigation of the building revealed some roof sections were of cement asbestos. This is the "safest" of the asbestos range but its removal was still governed by protocols. Having discussed the issue with our branch risk assessment expert, found a volunteer with asbestos removal experience, cleared with HQ H&S executive and found the closest disposal site we formed a small team of volunteers and gathered the relevant Personal Protective Equipment (PPE) together.
We organised a small scaffold tower, tools specific to the job and packing sheets in the relevant colour then decided on a date to remove the roofing sheets. The day itself was damp and we had a few showers, which was perfect weather for removing the roof sections. Towards the end of the day the rain got heavier, but this was just as we were finishing so all was well.
By using such expertise and following the relevant H&S Guidelines MCC Volunteers had saved some £3-£4000 on this job.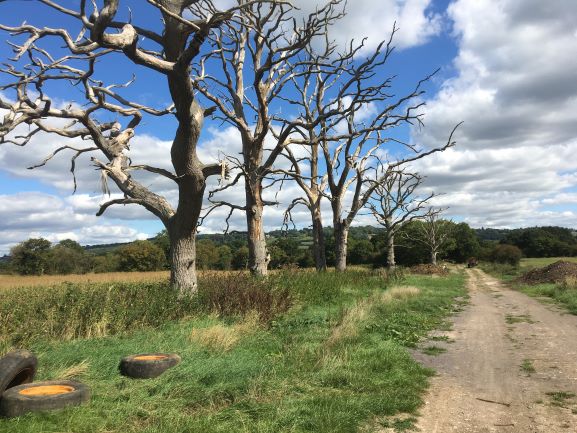 Also on site were a number of grand oak trees. Sadly all but 2 were dead, ashen grey in fact with no evidence of foliage. Concerned about their stability state it was decided to fell them. Unfortunately the trunk girth was outside the qualifications that branch/trust chainsaw operators were trained for and Waterway Recovery Group (WRG) Forestry teams were unavailable due to Covid. A local farmer helped take them down and it was clear that the reason they had died was the very, very small root ball and short roots…what caused this to happen no one knows at his time.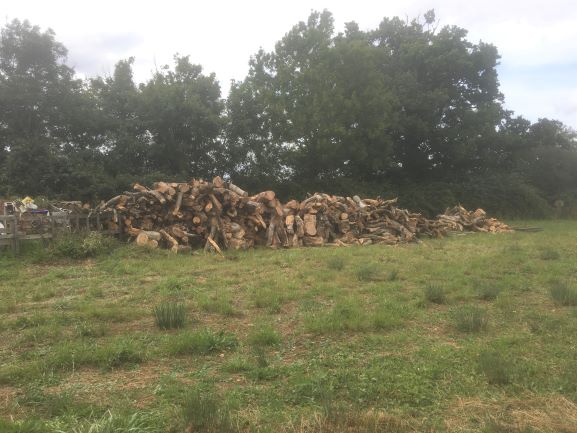 Once down we set to with chainsaws to make the timber size such that it could be recovered to our main site at Pewsham. It took many, many days to do this with three chain saw operators, an axe man!, and the help of a local farmer who brought his lorry and then a trailer along.
We still have a few small elements of the buildings to take down/recycle before the site is clear apart from our storage barn and crew room. We will leave the site as natural as possible whilst a clear path will be created to connect to the footpaths at the extremities of the site.
To the south of this line is a section of canal in private hands and then the Forest Farm line which is owned by Wiltshire County Council who we hope, in the next few years, will start the process of transferring such stretches of canal line over to the WBCT.
To the north the section of gravelled track is the actual line of the canal as it heads north to the Bell Inn, Lacock. We have yet to get positive responses from landowners north of Queenfield Farm but without them our Destination Lacock project to reopen the towpath between Melksham and Lacock and give safe route to walkers, cyclists and horse riders will flounder so further negations are planned.
Back to MCC Projects Main Page
Back to MCC Home Page